A thriving venture hub needed a variety of acoustic solutions to help create an inspiring atmosphere in its chatty open-plan space. A clever combination of well-located, super-effective sound absorbers and a one-person acoustic pod did the job brilliantly. 
| | |
| --- | --- |
| Client | |
| Industry | Digital services |
| Location | Wrocław, Poland |
| Design studio | Aco Design |
| Square meters | 400 |
| No of employees | 50+ |
Hexe Capital is an up-and-coming venture hub developing some of the most remarkable brands on the Polish start-up scene. One of them is Boostsite, a revolutionary intuitive SEO audit tool recognized by My Company Magazine as one of the best Polish mar-tech solutions. Another brand is Cut2Code, named one of the top WordPress Development Companies in Poland. However, their latest project wasn't an online app or web-developer business: it was their own new office in the heart of Wrocław. The Hexe business is built on fresh ideas and bold concepts, so they envisioned a comfortable but inspiring space for both cooperation and focused work.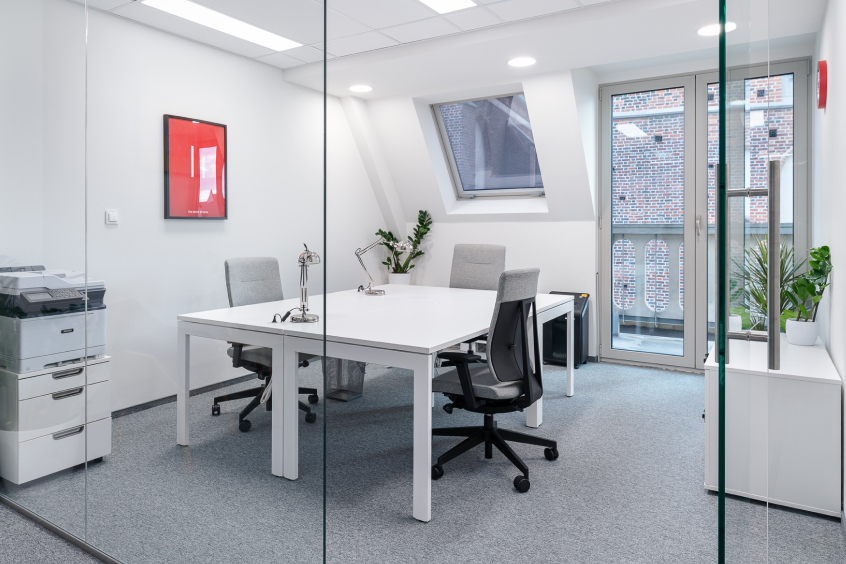 The office design was handed over to Aco Design, an architectural studio known for its creative and comprehensive approach. The studio concept was to make the office bright, welcoming, simple, and functional. Their goal was also not to "overdesign" the office, but rather to make it look like a comfy workplace, not a fancy coffee shop or an overly enthusiastic playground. Another objective was to create optimal acoustic conditions in an open-plan space, where most of the team members work (and most ideas are born).
"We knew that the open plan space must cater to individual-focused work and many informal chit-chats or quick consultations. We needed to ensure those conversations will not be distracting to the team members who are doing their hands-on work at the same moment."
Kamila Bielecka, Aco Design.
The design team used 50 of our Block panels, which are very effective sound absorbers, and placed them throughout the space, including on office furniture that surround workstations. Placing acoustic solutions as close as possible to noise sources helped effectively mitigate the overall noise level experienced by employees working in the open space.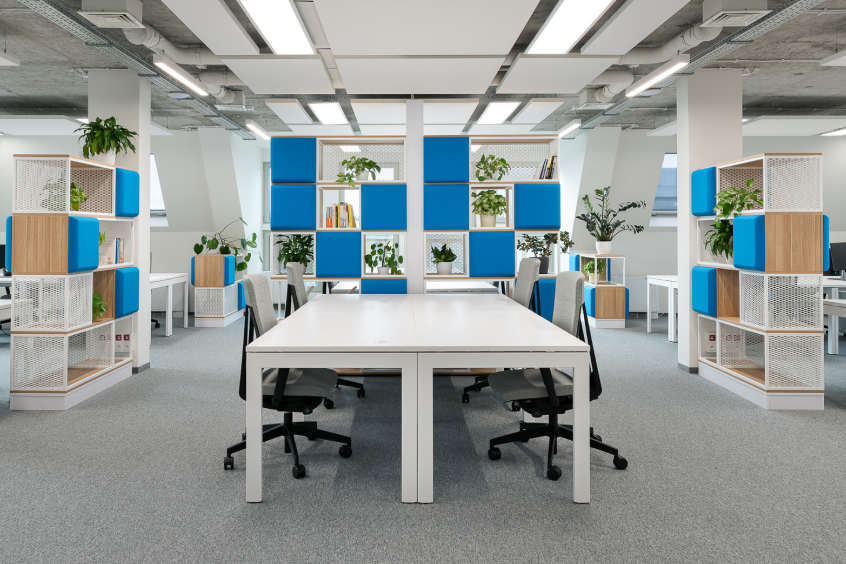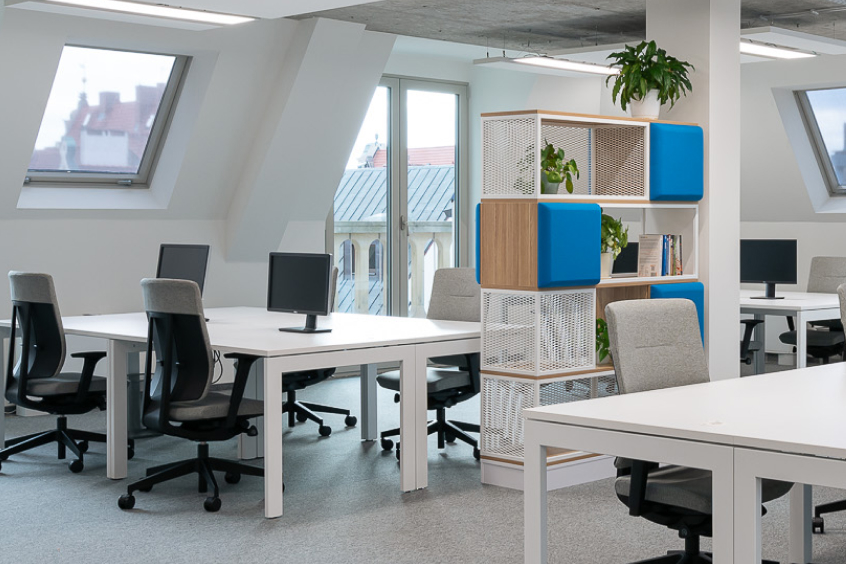 A very common distraction in open-plan offices, especially now that hybrid work models have become more common, are phone or video conversations that are taking place right next to other working colleagues. That's why Hexe chose our acoustic pod, Jetson, to help keep distractions at a minimum.
Our brand-new office pod was located in the middle of the space so everyone could reach it conveniently. What's more, this one-person phone booth provided a comfy place for making a call or video chatting with a client. With 27 dB sound attenuation, Jetson ensures that the shared spaces are not disturbed and, at the same time, pod users' private conversations remain private.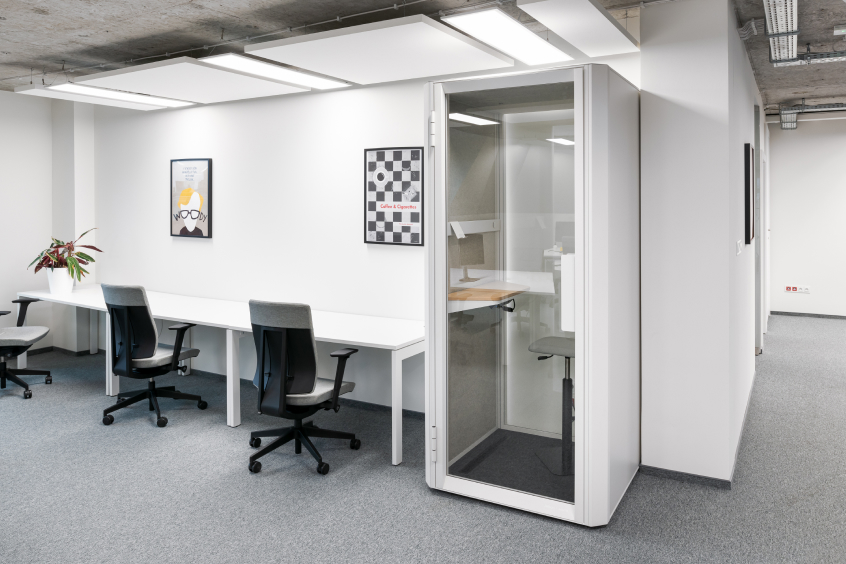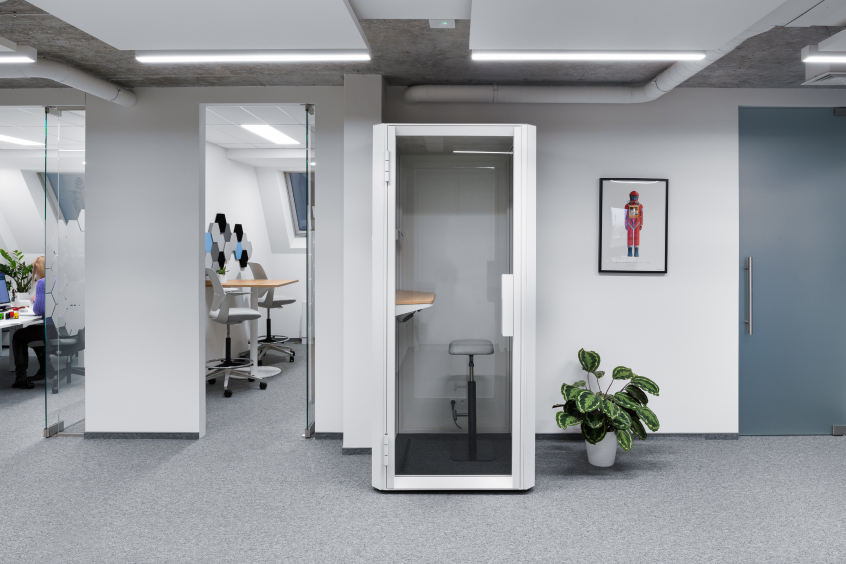 "The key to creativity lies in the balance between cooperation and individual work. We are delighted that Aco Design created a proper acoustic atmosphere to achieve that balance with Mute products."
Daniel Świątkowski, Founder & CEO, Hexe Capital.