That was a heck of a year! Not only did we launched a new series of acoustic pods and participated in four trade fairs across Europe (a record for us), but we also developed a groundbreaking new product that will come on the market in the first half of 2023. To top it all off, there were a few other highlights we'd like to share with you, too!
For Mute, 2022 was highlighted by the launch of Jetson, the new office pod we've created to make acoustic comfort in workplaces more accessible for all. We presented Jetson's novelty during trade shows in Copenhagen, Rotterdam, Paris, and Cologne. At each trade show, we enjoyed watching how Jetson stole the hearts of visitors with its unique and stylish add-ons, minimalistic design, and pioneering assembly system. 
Readers of our blog stories and our newsletter subscribers probably know that we also won another Must Have Prize, presented many of our acoustic marvels in the new showroom in Germany, and equipped all our office pods displayed in showrooms with a unique audio guide. Furthermore, we Mute products helped reshape many workspaces, including Axel Springer, Brain Embassy, CANPACK, and L'Oreal.  
But even more happened during the last twelve months, and sometimes we missed the opportunity to share them. To help you all catch up with the "World of Mute," here are some of highlights we thought you ought to know as followers of Mute!
Grew Our Galew Factory
More products and people require more space.  In September, we finished the expansion of our Galew Factory. Our home is now approximately two times larger than it was before, reaching 6000 m2. Aside from more space to build out best-in-market office pods and acoustic solutions, we will also create our first flagship showroom, called the "Mute Experience Centre." 
Although we've expanded our production capacity, we continued to reduce our environmental footprint by installing 120 photovoltaic panels on the factory's rooftop. We aim to make 100 percent of our energy consumption renewable by the end of 2023.
Expanded Our Team
In 2022 we broke several records, but none of them made us as happy as the fact that our team has grown more than ever before. We're now a close-knit team of 180 specialists— that's twice as many team members as we had at the end of 2021. And we're still growing!  
In the last twelve months, we significantly expanded our production team and assembly crew to shorten delivery times. We also strengthened R&D to stay ahead of the technological curve. 
Fun and Games at Mute Summer Fest
With a new, larger home, we had to properly celebrate. In September, we threw a housewarming garden party for our team. We all danced our shoes off, created our own Goldberg Machine, and took snapshots in a Mute pod-turned-photo booth. But the real deal was the karaoke sing-along room inside Jetson! We put its sound insulation to the most extreme stress test ever, chanting one smash hit after another. Curious to see what we've listened to? Check our playlist on our official Spotify profile.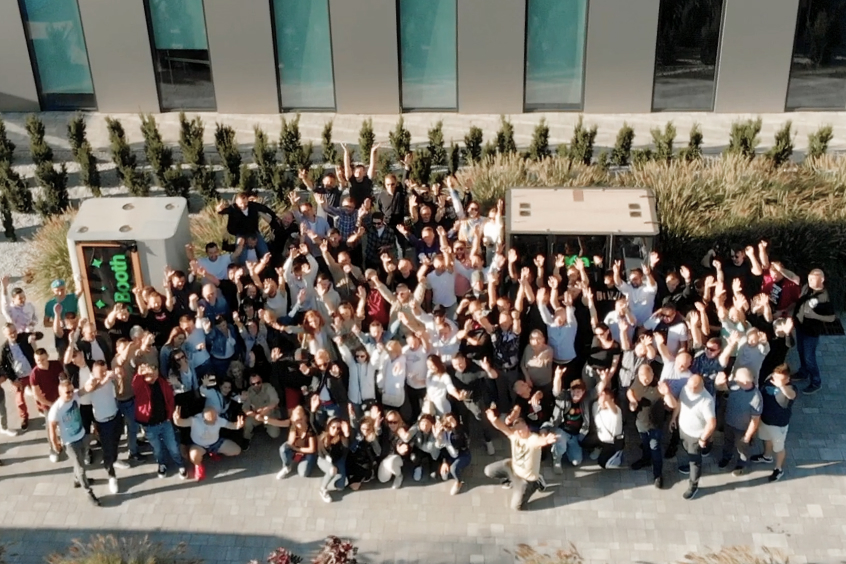 Filed the First Mute Patent
When we talk about our products' pioneering innovations, it's not just empty talk. We really practice what we preach. We recently filed a patent for the first no-tool wall-connecting acoustic technology (or scientifically speaken, " Mounting system for joining modular surfaces that demarcate soundproof space, the soundproof space incorporating this mounting system, and the method of assembling the soundproof space using this mounting system"). We used this pioneering assembly system for Jetson, shortening the assembly time from a few hours to 30 minutes, thus making our new pod the easiest-to-assemble acoustic booth on the market.
World of Mute Goes Global
Although we are a European-based company, we are eager to expand to new countries and continents. This year, our products reached Asia and Australia for the first time. We can't wait to finally introduce ourselves in the United States, too, starting off with NeoCon in June!
Want to keep abreast with everything we do? Subscribe to our newsletter!
We promise:
→ zero spam
→ some interesting news
→ a lot of intriguing articles about the role of well-being in the office.