Do you want to bring workers back to the office, at least in hybrid capacities? Then you must provide various purpose-based working zones that cater to workers' comfort and wide-ranging needs.

We've come up with four work spaces that will help promote a welcoming corporate culture, boost collaboration, and provide cozier conditions.  These configurations can turn a dull, traditional office into a vibrant workspace. Full disclosure: all these workspaces were created with the OmniRoom modular office system. 
The first open plan office was designed in 1906 and office spaces haven't stopped evolving since (learn more about it from our article on office evolution). But never have offices and workplace expectations changed so rapidly and needed to cater to such diverse tasks as today. The reasons behind this office revolution are plenty. One is the hybrid work revolution that drove many office workers to take on their roles remotely. That's left employers who want their workers back in the office in the lurch because workers really need a valid reason to commute and show up to work in person. As Gareth Lewis from Mace put it, "Workers no longer want to commute to work in sub-standard offices." To entice workers to drop by the office more often, employers must offer them a more elevated experience and higher work comfort than they have at home. 
To create that elevated experience, companies need to focus more on valuing employees' well-being and the positive influence of physical and mental comfort on productivity. They also have to take into account that work done in today's offices is more complex and multidisciplinary than ever. Everyday duties, even in relatively specialized roles, became a mix of wide-ranging tasks and can include cross-team collaborations. Employees also need more private spaces to do focused work on their own and larger or mixed-spaces to meet and collaborate. Wouldn't it be great if the office could provide a purposeful, functional zone for each of these varying activities? 
We believe that with OmniRoom, it's not only possible, but also very simple. To show you how universal our new modular office system is, we created a selection of office spaces for different office functions.  Let's jump into the spaces.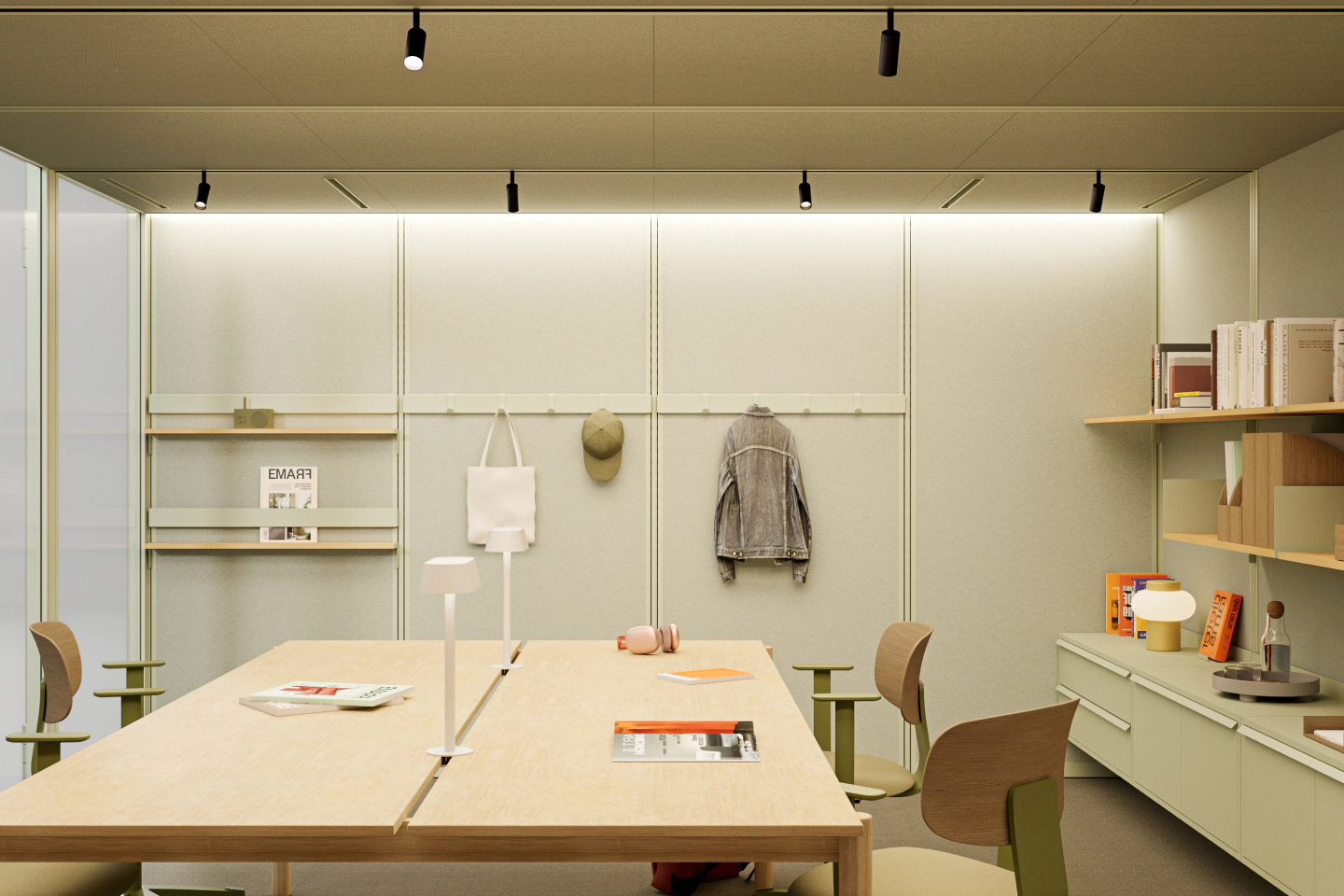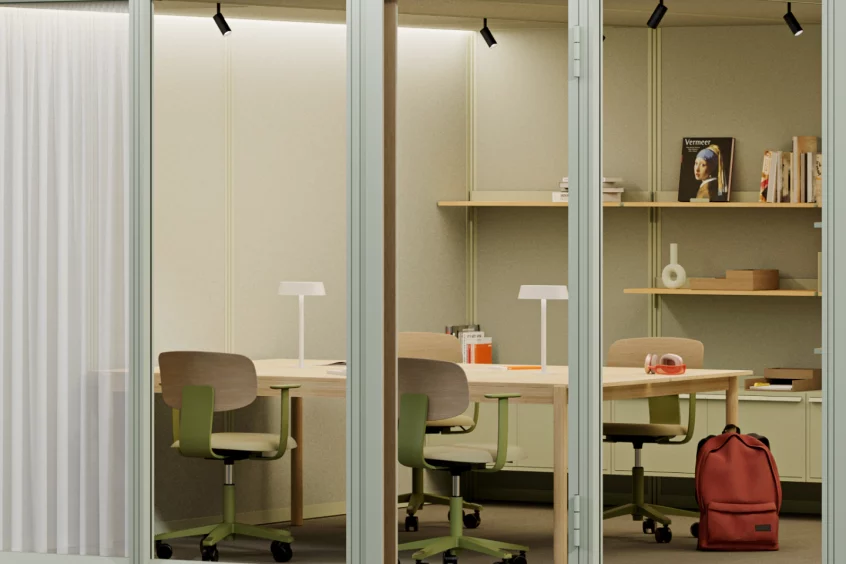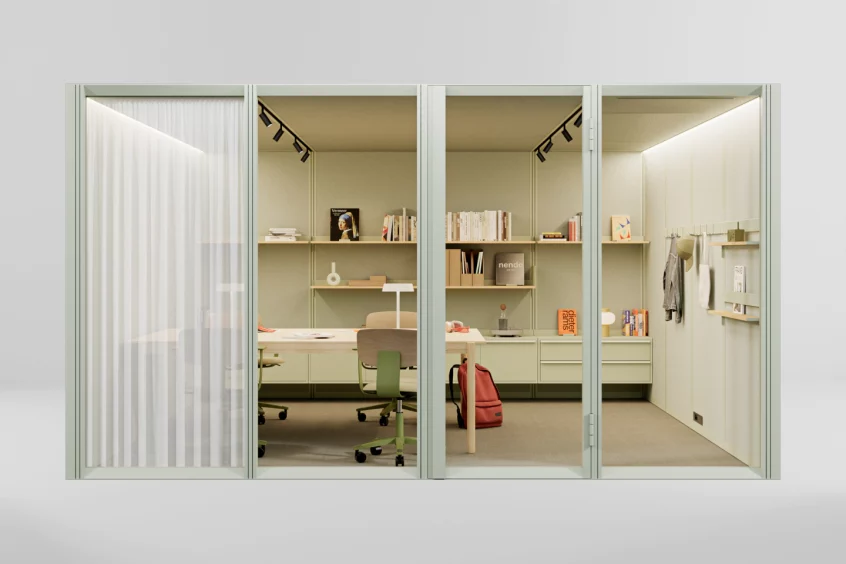 Office Library

 
For most office workers, privacy is the ultimate perk. Given that 53 percent of the time we spend working alone doing our hands-on work, and most of us don't have the luxury of private office space, creating a dedicated Room for individual, focused work and doing research may be worth considering. This Office Library set provides everything one needs to gather thoughts and get the work done: soundproof walls, seats with desk lamps, and many wall-mounted shelves to display stimulating books and magazines. While implementing the Office Library in your office, don't forget to set the rules for using it: for example, ask users to switch off their phones and introduce "quiet hours" for some part of the day. And if you are looking for some fascinating books for your library, check out our list of recommended workplace library books.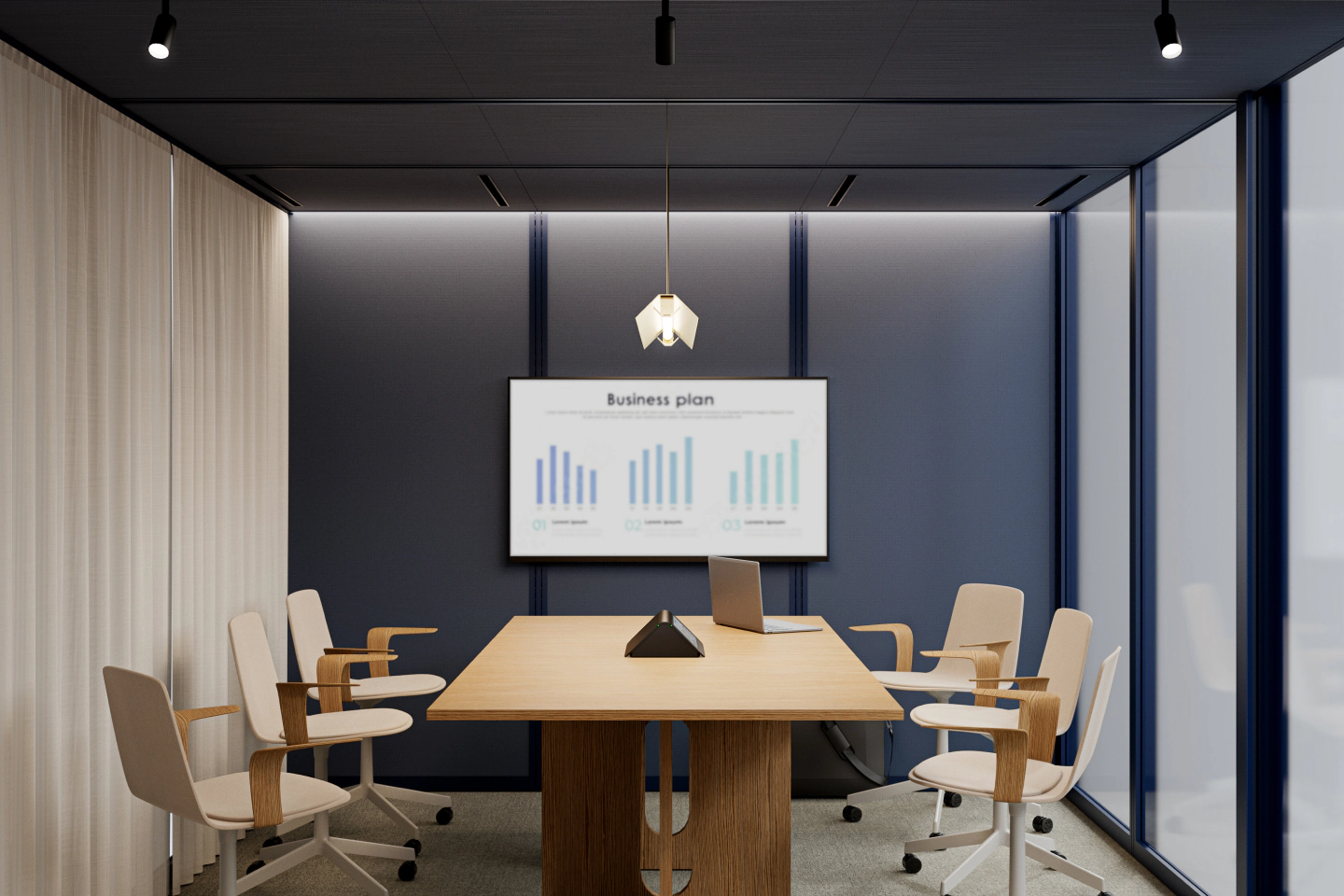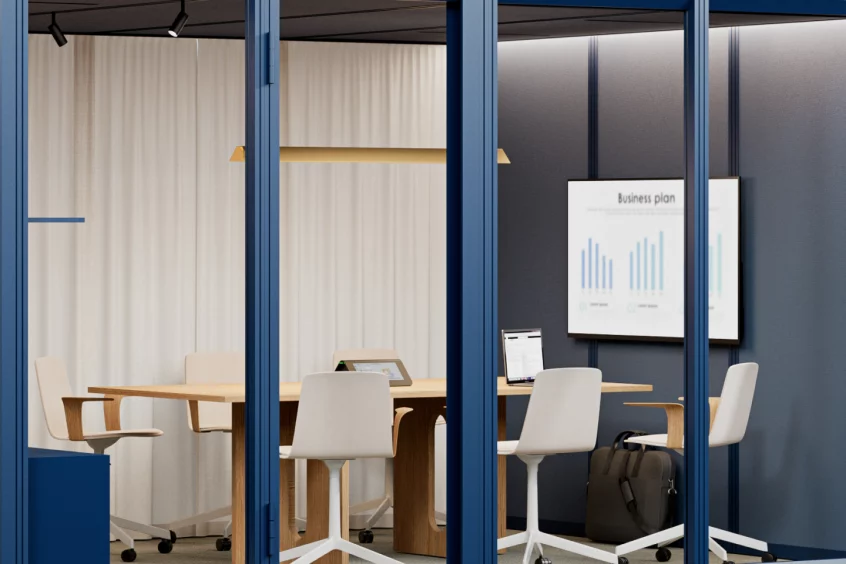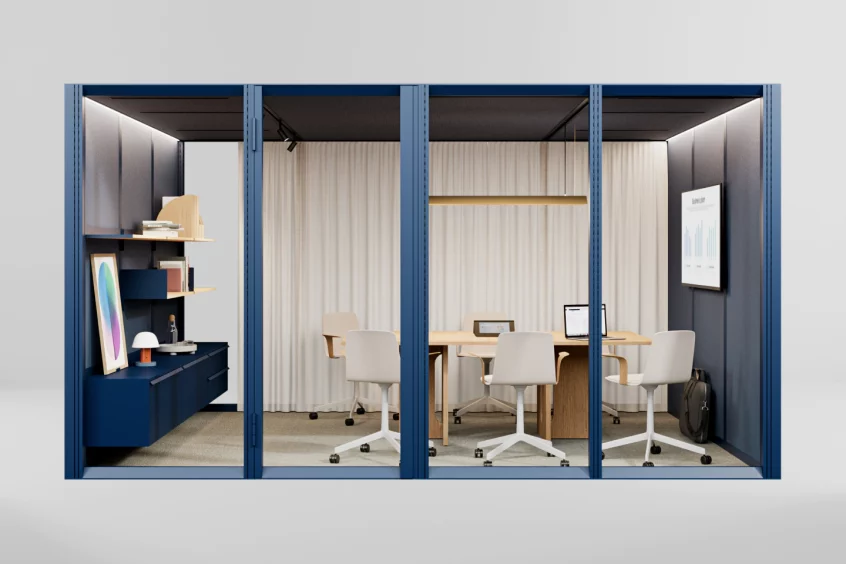 Hybrid Meeting-Ready Conference Room 
We are living in a hybrid work era. Remote work is here to stay, so most work meetings now involve at least one person connected by video call. Over half of all sessions (56 percent) use video. Therefore, every conference room should be hybrid meeting ready to allow in-person and remote participants to cooperate efficiently. 
One of the main issues during video calls is speech audibility: 89 percent of office workers struggle with audio quality during video calls. That's why this modular conference Room is filled with acoustic panels to provide the best possible sound quality and is designed to be used as a video conference chamber. And you won't have to worry about eavesdroppers either – soundproof walls ensure that private conversations remain private. We added non-transparent curtains to add even more privacy and a comfy, intimate atmosphere.
Everything in this room is purposefully designed to elevate the video meeting experience. For example, all seats are facing the camera, located in the room's center, to make sure only participants are visible on the screen. There are several independent and adjustable light sources for the entire space, people, and background to ensure everyone looks good on the screen. Creating this set up, our designers left nothing to chance!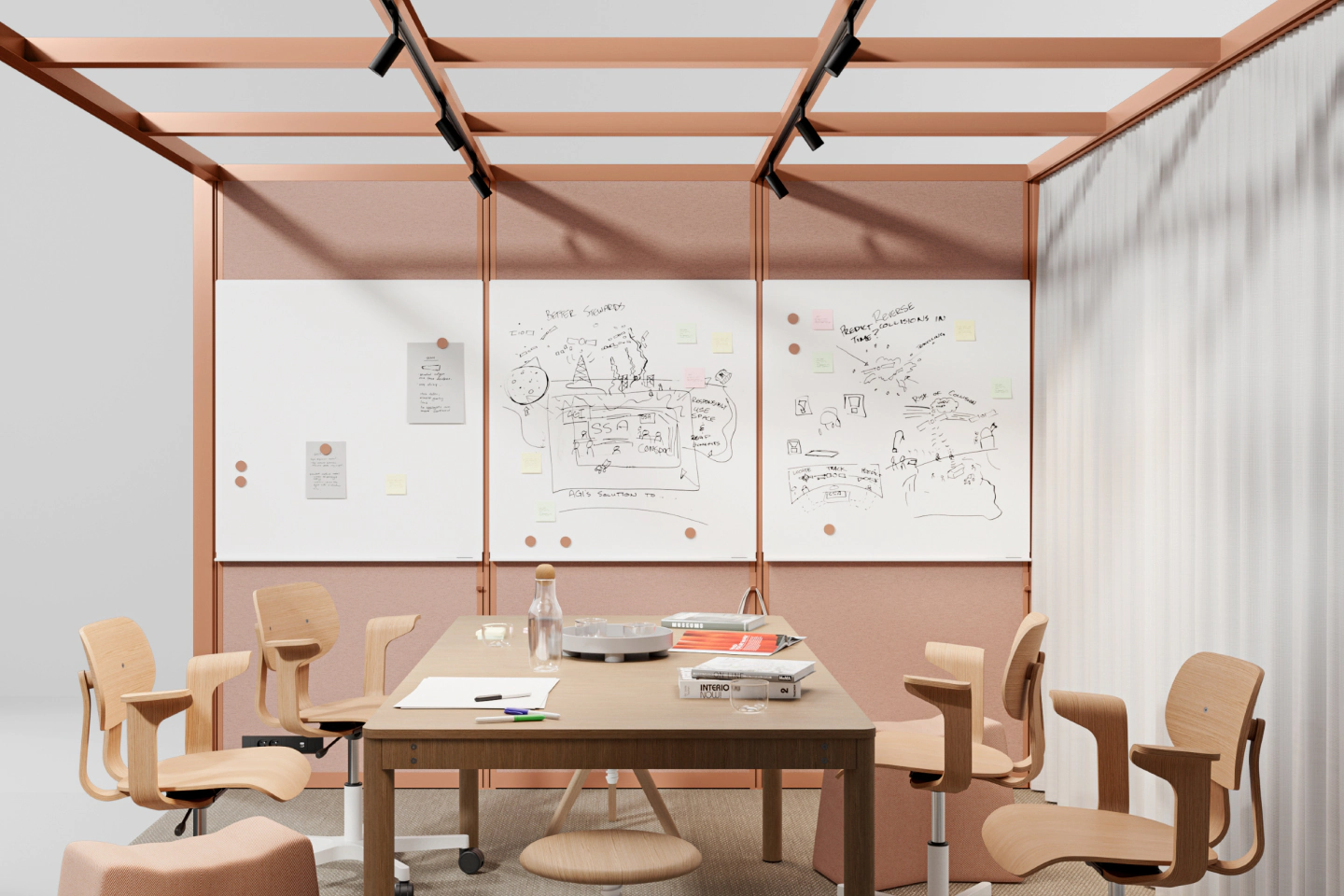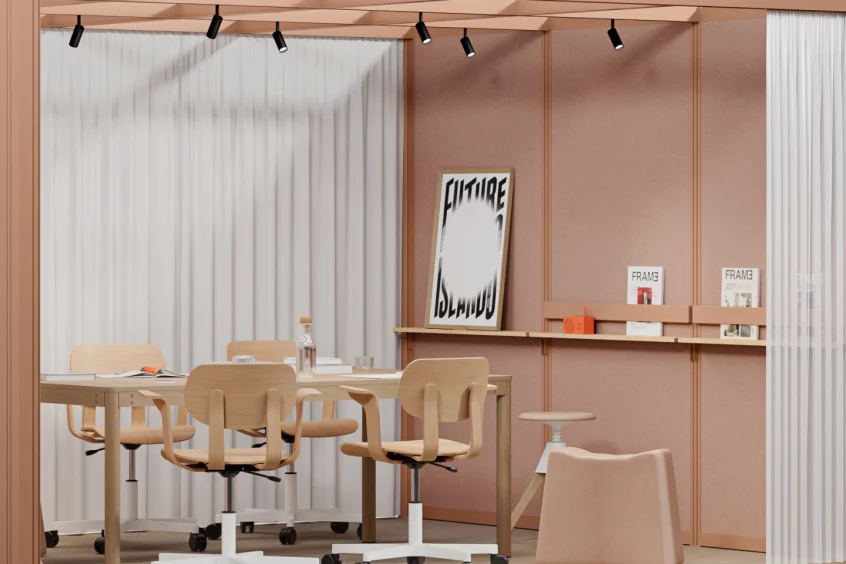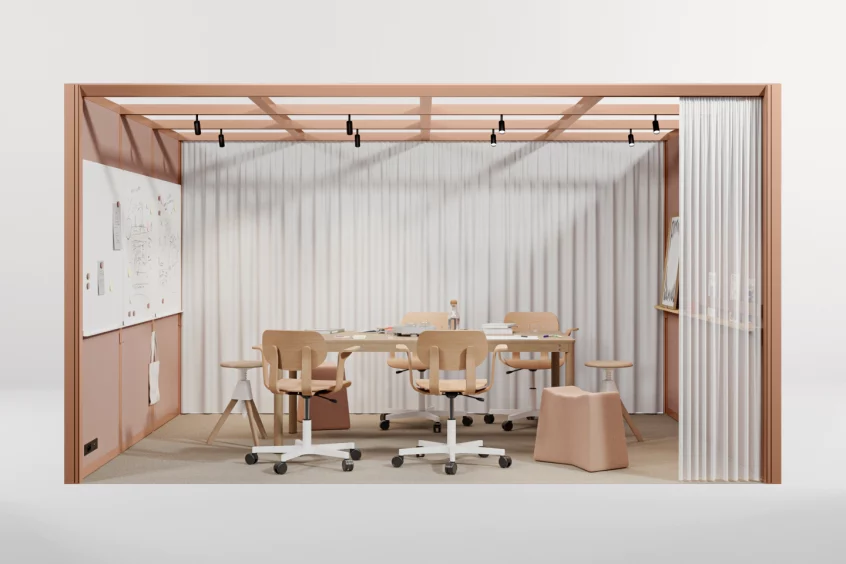 Brainstorming Room
Sometimes, video calls may not be the most effective way to have a productive meeting. For creative meetups and brainstorms, it's good to have the entire team in the room to create a more vibrant and interactive atmosphere. To make this happen, invite all meeting participants to Brainstorming Room created for just that purpose. 
This room for brainstorms can host up to six people. It can be built with soundproof doors or just semi-transparent curtains for a more open and inviting feel. We also made sure to add a huge whiteboard that extends the entire width of one wall, so room for ideas never runs out.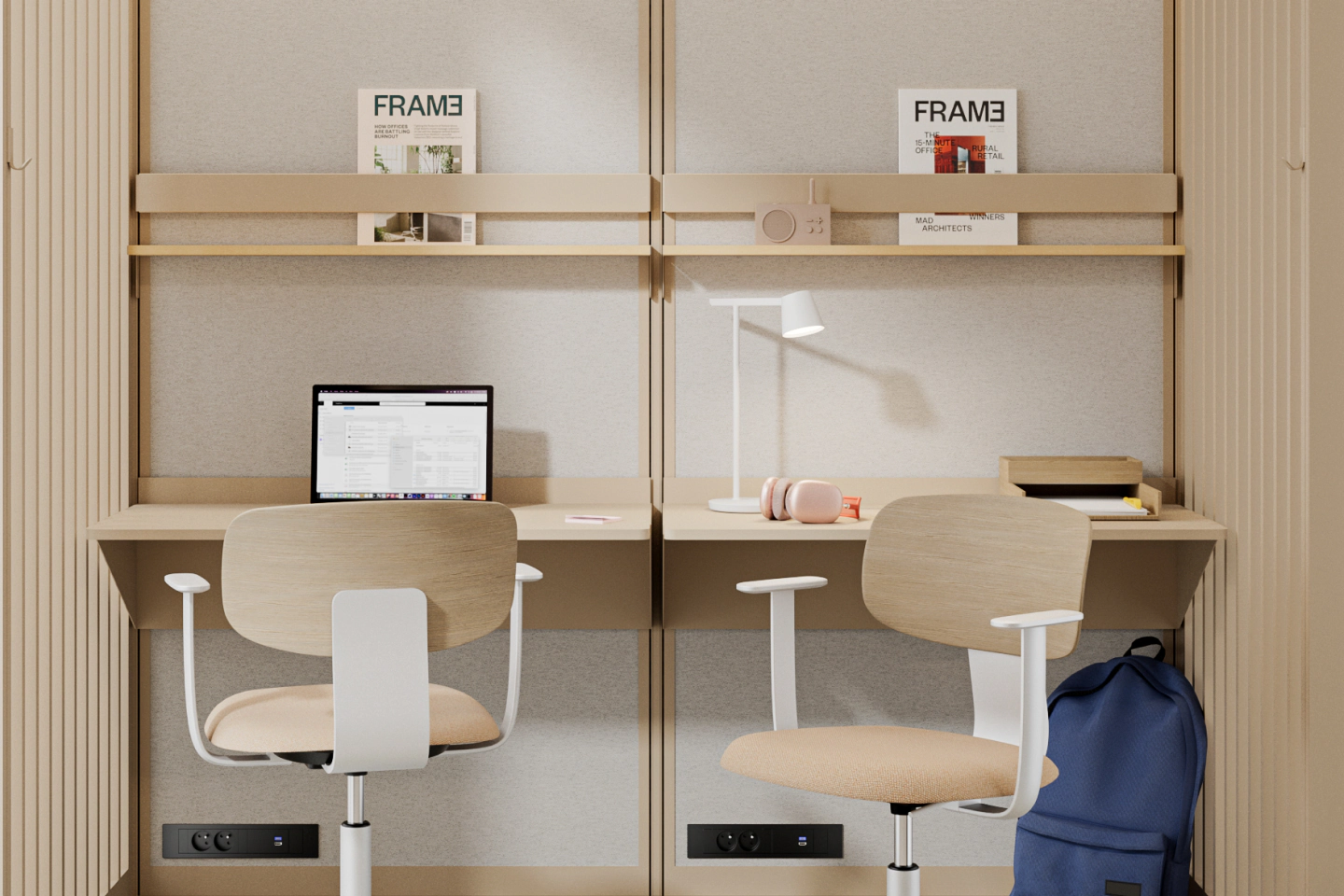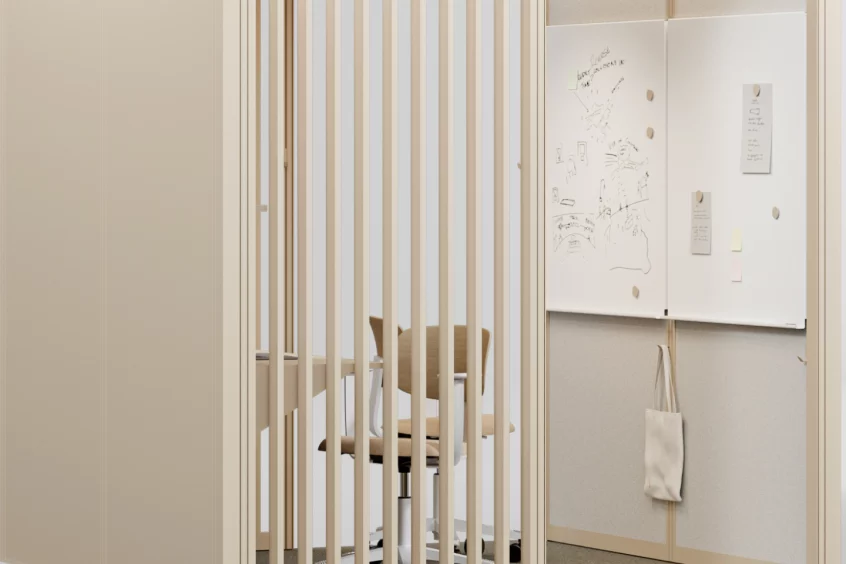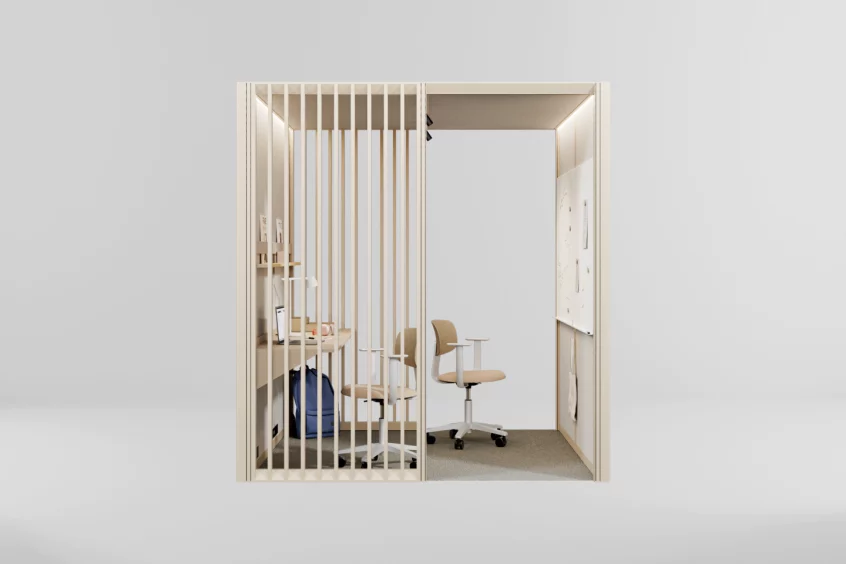 Hot desks zone
Hot desks have become an indispensable element of office space as the hybrid model becomes more and more popular. The reason is simple: in traditional offices, as much as 40 percent of dedicated desk seats are now unused due to remote work. Hot desks are not only cost-effective, but they also w foster cooperation and strengthen social culture. As people switch up seating arrangements depending on when they come in, more spontaneous interactions among different team members are created.
This OmniRoom offers semi-secluded space for two, ideal for arranging a small, cozy hot desk zone. Each workstation has an adjustable desk, a media port with electric outlets, and a USB charger. Semi-transparent walls create an intimate atmosphere for sharing ideas and conversation. 
For now, many office workers are not fans of hot-desking because it may feel unmoored compared to one's own home office. But creating cozy hot desk corners with a mix of privacy and socialization can help people feel more comfortable with the idea.