Looking for an office perk that fosters creativity, helps people to grow and learn, and adds a touch of coziness to the office? Forget foosball tables and pinball machines and just hit the books. 
An office library might not be among the first "cool office perk" that pops into your head. More likely, you picture extravagant amenities that migrated from the start up world into the corporate office: ping-pong tables, nap pods, or pinball machines.
But, at least in our opinion, the office library hits the spot when you want to provide something more than just an entertaining gadget to chill out or blow off some steam. In particular, an office library also helps you make the office more inspiring, more human-oriented, and focused on employees' needs.
There are lots of benefits to having your own book corner. The most obvious one is that it serves as the perfect place for employees to search for inspiration and research, especially when facing a creativity block. In the longer term, a library creates avenues to promote self-improvement, continuous learning, and broader horizons. Well-equipped bookshelves can send everyone a meaningful message that the organization values reading and gathering new knowledge. In a rapidly changing business landscape, the focus on learning and researching can be massively undervalued. An available array of books and resources put learning in clearer focus. 
The office library can also offer an opportunity to bring employees together and learn from one another. As executive design director Dave Hoffer suggests, the library encourages employees to socialize by swapping books and connecting over them. Employees who bring in a book for the library can note its theirs. When another employee picks up the book, they have a quick connection to the person who brought in the book. It's operates like an autonomous readings club. What can be more unifying for a team than exchanging opinions about a freshly read novel, self-improvement book, or the newest big idea? 
Let's also remember that not many things make the atmosphere in any space more cozy, homey, and stylish than the colorful flourish of book spines on shelves. 
If we've convinced you of starting your own office library and design "by the book(s)," read on for your must-have titles.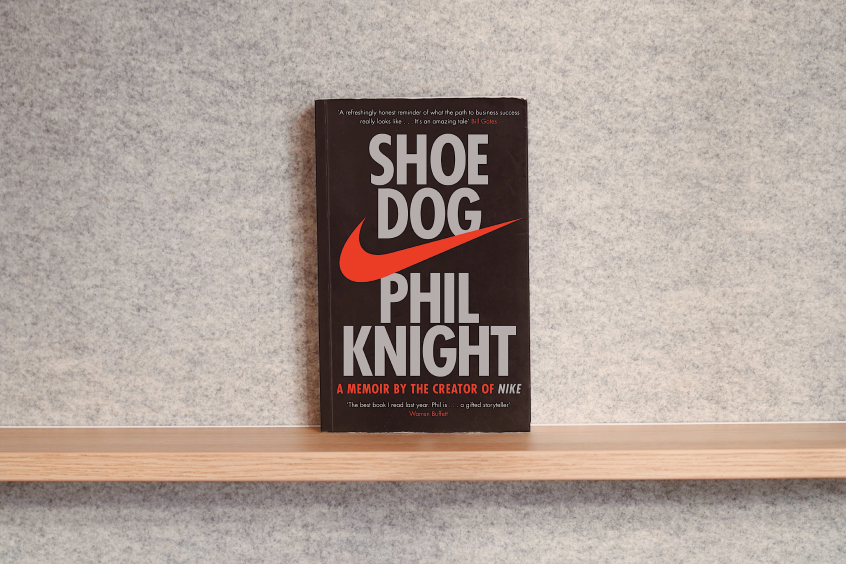 Shoe Dog: A Memoir by the Creator of Nike
Nike founder Phil Knight started as a distributor for a Japanese sports shoe company. He eventually turned his "side project" into one of the biggest brands in the world. Knight's journey is gripping, inspiring, and surprisingly entertaining. It also shows us that sometimes the biggest things have small (and unexpected) beginnings.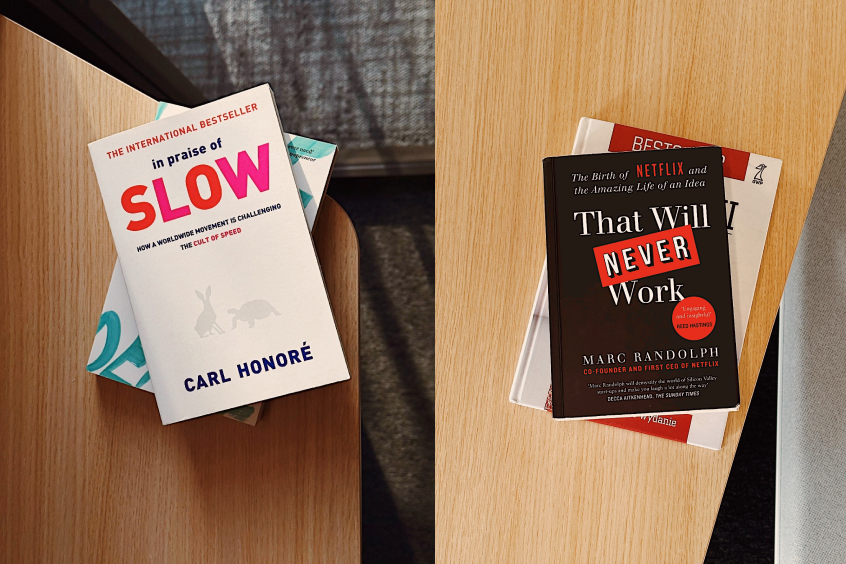 That Will Never Work: The Birth of Netflix and the Amazing Life of an Idea
How to transform an initially unsuccessful idea into a global brand? Marc Randolph's memoir about Netflix's early days are full of insightful lessons and engaging stories about reshaping a money-losing, sinking DVD-rental business into a successful video-on-demand unicorn. It's fascinating to discover that most of Netflix's novelties, like the watchlist and subscription model, were implemented before Netflix became a digital company. This book provides an excellent example of the importance of innovating ahead of a technology curve.
In Praise of Slow
Carl Honore's global bestseller critiques the "cult of speed," or the compulsiveness and rush of the modern world, including our work. He argues that by slowing down or simply balancing the pace of our work, we can be more mindful, happier, and more effective. Apart from plenty of eye-opening observations, adding this to your office library sends your team a message that your organization understands that comfort and well-being create better results than hasty, chaotic, and futile work.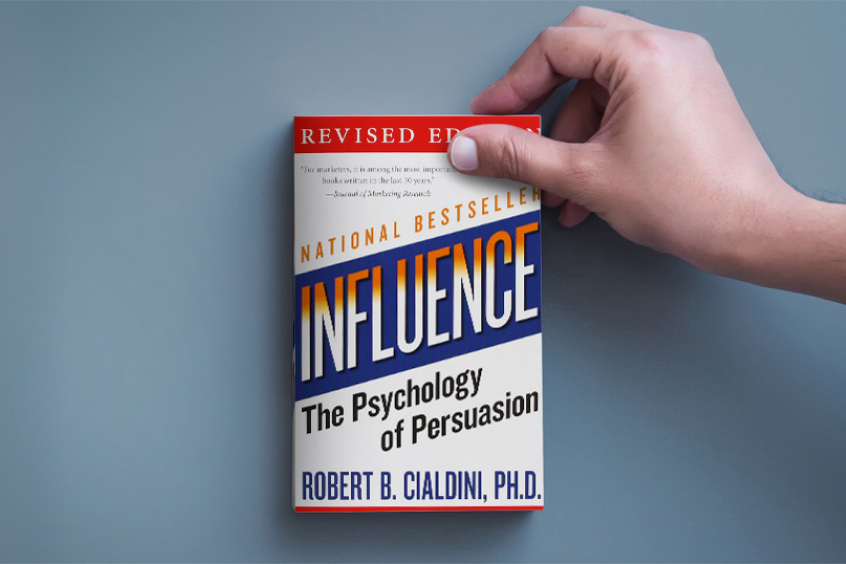 Influence: The Psychology of Persuasion
Listed on Fortune's "75 smartest business books" list, this wellworn favorite by Robert Cialdini is a great starting point for understanding psychology. Cialdini's publication focuses on a few essential rules that help us persuade others, like the rule of reciprocity, commitment or consistency. Whether your teams deal with clients, direct-to-consumer, or simply other colleagues and teams, it's good to have this "influential" title on hand.
Those are definitely our top four books, but if you want to get going on a whole library, check out this extensive list. And, to quick start your office library, we have the perfect solution: our super easy and beautiful office pod, Jetson, can be ordered with additional shelves and accessories to display books, magazines, and catalogs along its walls.