In the advertising industry, it's all about creativity. For new ideas to come into existence, noisy and chaotic spaces are a big disturbance. Here's how Verseo – one of the biggest online marketing agencies in Poland – significantly improved the efficiency and well-being of their workers by finding acoustic solutions for their new modern office.
| | |
| --- | --- |
| Client | |
| Industry | Online Marketing |
| Location | Poznan, Poland |
| Number of employees | 100 |
| Square metres | 850 |
| Distributor | BK Concept |
Verseo is an online marketing agency specializing in Google Ads, SEO, and Content Marketing. Their team is built of young, dynamic, extrovert people, and the nature of their work requires constant sharing of information and confronting ideas. Moreover, they've got a recording studio to produce their video content and webinars and they need total silence there. The problem was widespread – the planning of their brand new, modern office, however well designed, didn't consider acoustics.
The effect? Intense noise in open spaces and conference rooms, problems with producing content, and many complaints of frequently distracted employees. Our objective was to propose adequate acoustic solutions for five open spaces, several conference rooms, offices, and the recording room.
"We especially appreciate the improvement of our recording studio acoustics. Our studio is a small room, 3 meters high, with plastered walls. No wonder there was a significant problem with reverberation during recordings. But with high-class acoustic panels, we can record podcasts and webinars without any sound problems."
Maciej Popiołek, Head of Marketing, Verseo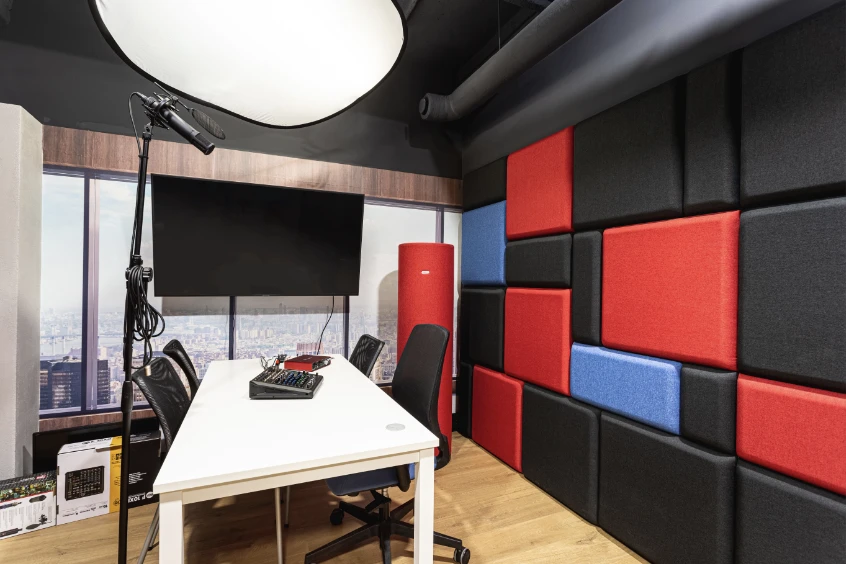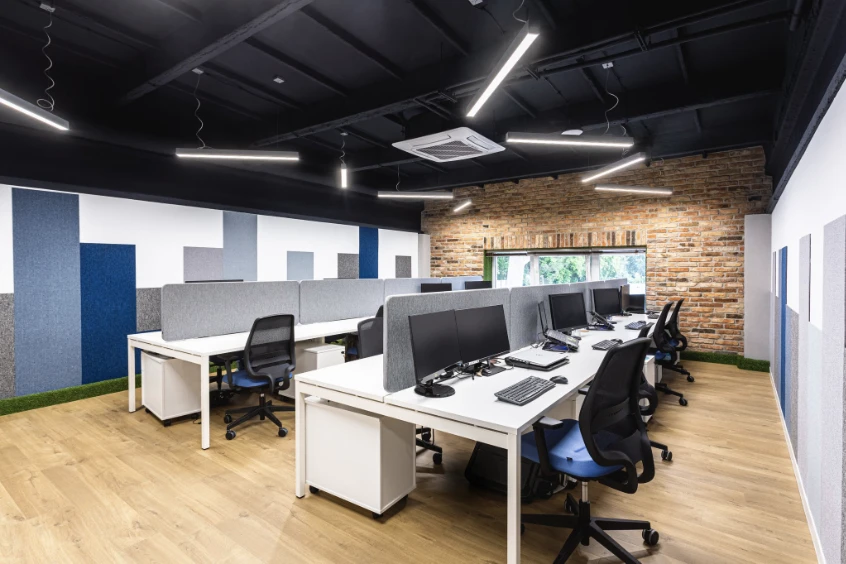 First, we needed to identify the problem. Thanks to our acoustic app and in cooperation with the client, we could easily and quickly perform an advanced analysis of the acoustics in the client's spaces. The outcome didn't surprise us. As in plenty of new offices, the reverberation was mostly caused by a few popular loft-like solutions: a high concrete ceiling, exposed brick and plastered walls, natural wooden wall cladding, glass walls, and floors finished with panels. 
Based on this report, we proposed integrated acoustic solutions using our products, primarily Blocks and Duo. In the first step, we wanted to solve the problem of reverberation in conference rooms, which was caused by concrete ceilings. In those areas, we installed  Block acoustic panels on strings. Then we enhanced sound attenuation in open spaces using Duo partitions and Duo free-standing screens added to the desks. Finally, to improve the acoustic comfort inside the recording studio we used Tower, a best-in-class sound absorber, and Block panels on one of the walls. 
All changes fitted perfectly in the office design. Grey elements were complemented with red and navy ones to reflect the brand's coloristic identity. 
"We were very impressed how the Mute team increased our work comfort with just a couple of smart and effective solutions. With their help we realized that acoustic well-being is something you can truly appreciate when you experience it."
Maciej Popiołek, Head of Marketing, Verseo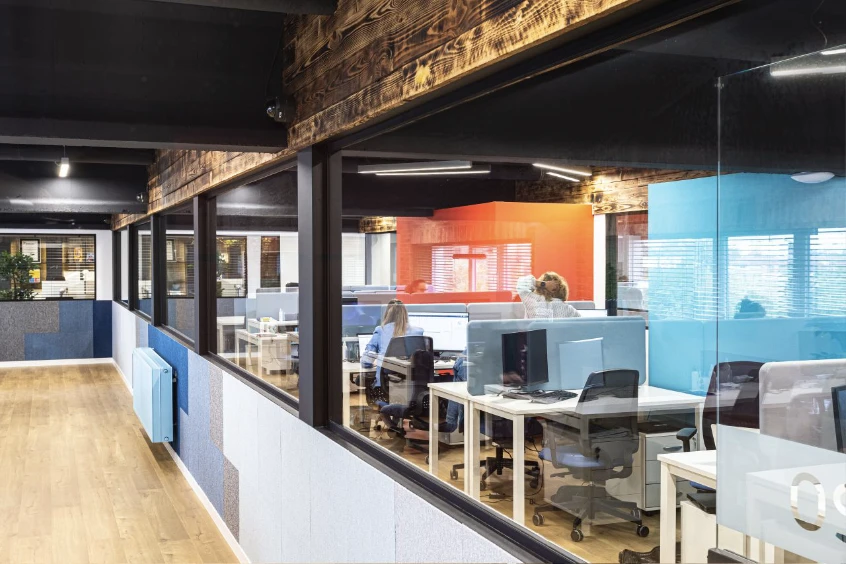 The acoustic adaptation implemented in open spaces allowed
to reduce reverberation time significantly

and to effectively limit the sound propagation over long distances.
Employees are now able to chat in open spaces without disturbing others.
Effects were so widely recognized that the client ordered more products for the remaining parts of the office.
This case provides a lesson that when we want to create a well-designed and easy-to-use office space, we need to think about acoustic solutions that will meet employees' expectations and boost their efficiency.
Ready to get started?