Although we're barely a couple of months into the year, we're already embarking on our most ambitious trade show tour ever. Read on to learn where and when you can check out the World of Mute and explore our new products in real life! 
In the coming months, we'll head to four countries on two continents with the latest newcomers to our product offerings. We start with Workspace Design Show in London and Workspace Expo in Paris, two trade fairs we know well and love coming back to each year. Then, in June, we plan to show our products for the first time in the United States during Neocon. Finally, we'll finish our journey in Amsterdam by making our first appearance at Amsterdam's Workspace Design Show.
What do you have to look forward to? Lots and lots!
OmniRoom  
Our new room-in-room system really stole the spotlight at last Orgatec in 2022. Participants were certainly intrigued by its technical solutions! OmniRoom is truly modular, totally multifunctional, and unbelievably easy to assemble, thanks to our patent no-tool linking system. At each trade show, we will demonstrate several different configurations, fully equipped with dedicated furniture and accessories.
Jetson
In creating our "New Office Essential" we aimed to offer the benefits of acoustic pods to everyone. That's why Jetson mixes trailblazing technologies and user-friendly solutions with an affordable price. At each trade show, you will have a chance to explore all its unique features and compare two versions of our newest office pod: an individual, cozy acoustic oasis (Jetson S) and a more spacious pod for up to four people (Jetson L).
It almost goes without saying that at our stands you will also find more of our products: our classic acoustic pods, Space, first-class privacy screens, and a wide selection of acoustic lighting, including our award-winning Mist and Line products. 
Fun Mute Get-Togethers 
Thematic get-togethers at our stands are our tradition and specialty. Obviously, this year we won't miss any chance to celebrate with partners and friends less formally, and you can be sure that we will prepare something special and unique for each event. Wondering what we'll do? Subscribe to our newsletter and stay tuned.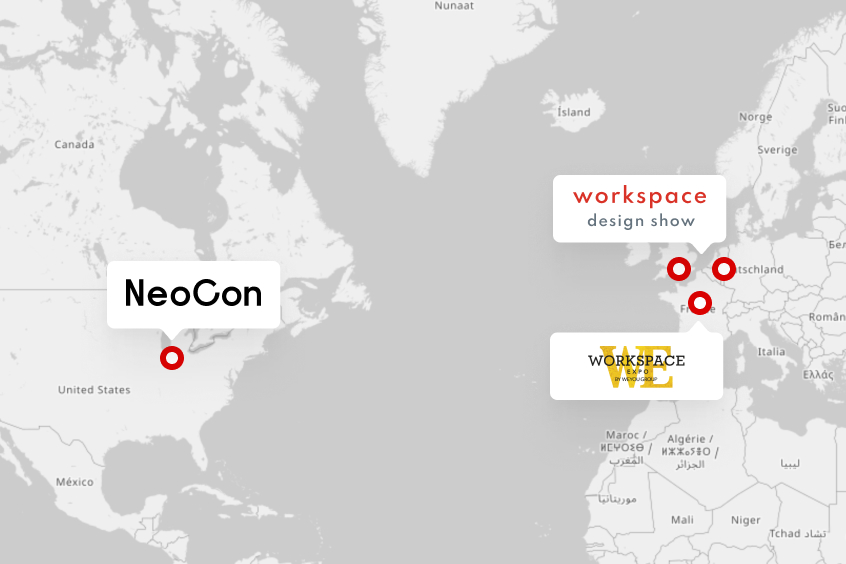 Mute's 2023 Trade Show Schedule
Workspace Design Show London, February 27-28th
Stand B24, Business Design Centre, 24 Upper St, London
→ Join us for Wine & Cheese on February 27 at our stand (B24). From 5 PM.
Workspace Expo, April 4-6th
Stand I36-J37, Porte de Versailles, Hall 1, Paris
Join our special get-togethers:
→ 4.04 – Afternoon Prosecco, serving from 4PM
→ 5.04 – Cocktails & Drinks, serving from 6PM
Clerkenwell Design Week, 23-25th May
Showroom address: 32 Great Sutton Street, London EC1V 0NB
Our products will be presented by our friends from Obo
Neocon, June 12–14th, 
Stand 9070 (7th floor), The Mart, Chicago
Workspace Design Show Amsterdam, October 11-12th,
Europaplein 24, RAI, 1078 GZ Amsterdam