It's official! An updated version of our Acoustic App is ready. Check what's new and learn how you can test your office's acoustics in only 10 minutes using just a mobile phone.  
Mute App is an effective tool for designing an acoustic environment in your office. With just a mobile phone or a laptop in a few minutes you can measure the reverberation time inside and, what's even more important, plan how to improve it with dedicated acoustic solutions from Mute. For 2 years Mute Acoustic App has been widely used by companies coping with acoustics problems and lately we've decided that it deserves to be extended and refreshed. 
So, what have we changed? Let's start with things that stand out the most – colours and the design. Entering the app you'll quickly notice the smooth and elegant new look – with our characteristic font and colour palette. We redesigned it completely so that it matched the Mute's visual identity that we introduced in January 2021. Now there is no doubt that the app belongs to the World of Mute.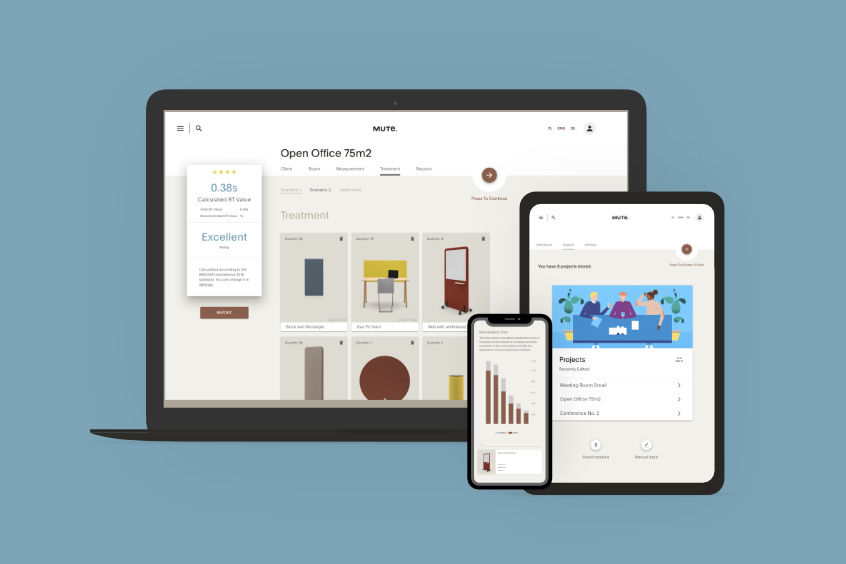 What's even more important, we added our newest products from the Acoustic Lighting Collection. Our new set of acoustic lamps not only provides comforting, cozy lighting but also helps to keep the space peaceful and calm thanks to its high sound absorption parameters. Now you can go to the App and test on your own how they can make a difference in your office. 
We've also implemented some minor changes. Experienced users will notice that we expanded the database of finishing materials and furniture. Now you can load more detailed information about your interior to the App and, therefore, receive even more accurate analysis. 
And if you don't have any experience with our App, it's a perfect time to catch up. Our fancy tool is waiting for you! Enter here to register!