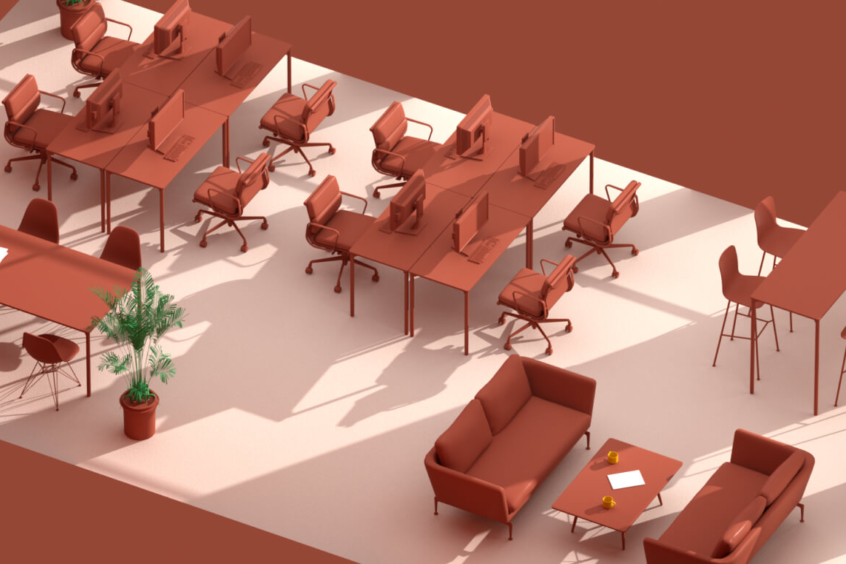 Before you bring the entire interior to your new office, make a smart plan and consider the needs of all teams
5 Ways to Reduce Noise in a Busy Office
While you're sitting at this really important project, you just can't put your mind to it when you are constantly hearing others discussing a task or being in phone calls. Especially in open office spaces, it is hard to find some peace and quiet for focused work. Let us give you five simple ideas to absorb the typical office sounds.
1. Be Smart When You Arrange the Office Space
Let's start with the basics. When you place desks for employees, consider putting the teams and people who constantly work together close to each other to communicate easily. You can separate the room into compact spaces by placing acoustic walls so one team does not disturb another.
Put printers and other office machines in a separate room. The noise of those machines can be very distracting and even annoying for employees, as the sudden sound steals their focus and reduces their productivity if they always have to find their way back into the task. Do the same with coffee machines, kettles, and microwaves. Place them ideally in the office kitchen without the cool coffee bar in the middle of the office. You can also place some sound absorbing panels in the kitchen as it is often the loudest place in the entire office.
So before you bring the entire interior to your new office, make a smart plan and consider the needs of all teams, e.g. don't place the always bubbly and chatting creatives next to the accounting team. 
2. Perfect Plant Placement
Place plants all over your office space – the bigger, the better, because bigger plants can catch more of the surrounding noise. Besides the much-needed sound absorption, plants are beautiful to look at, make the space more homey and comfortable and create good vibes. It is proven that plants have a positive impact on our mood. Not only that, but they also increase the air quality and help to keep a clear mind.  
3. Create Quiet Work-zones

Some people have a more challenging time working with the surrounding noise around them than others. And sometimes, it's just good to get away from people, voices, and sounds. If there is no meeting taking place at a conference room, this can be a short-term solution to offer a quiet place to employees. A separated space dedicated to work in peace and quiet is an even better solution and works long term. Provide rooms that allow individuals to focus appropriately on their work. Ideally they should be soundproof and comfortable to spend there even few hours.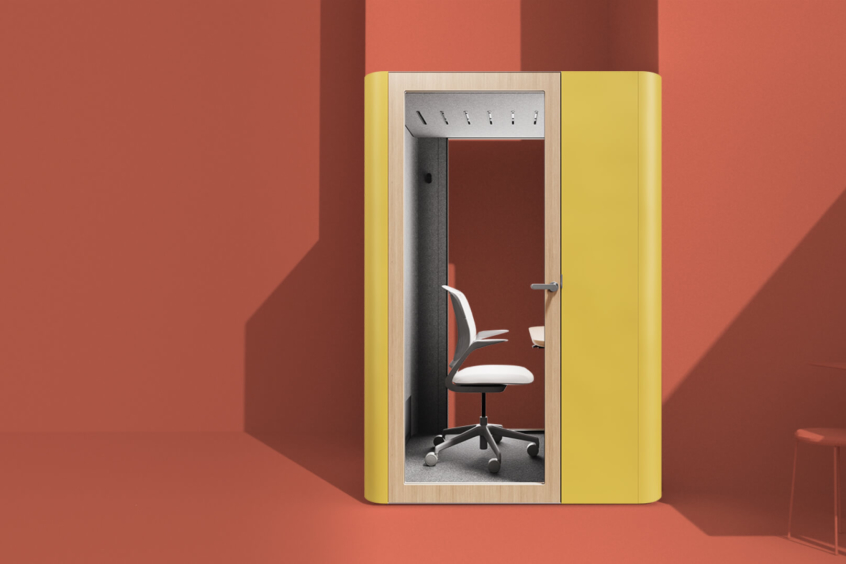 4. Soundproof Pods for Quick Meetings, Chats & Individual Work
One of the best soundproof solutions are acoustic pods. Depending on your needs, you can choose pods of different sizes. For individual work, choose Space M, for more collective tasks or small meetings consider Space L or Space XL. Talk to your teams, ask them what they need. Locate the pods wisely and strategically, so teams have easy access right next to their office area. Additionally, you can encourage every employee to use the pods frequently. That way, conversations are kept private, and other team members are not getting distracted and disturbed. Place whiteboards inside a pod for meetings, use innovative whiteboard paint surfaces on the outside of the pod to scribble invitations to use the pod on it. If you need to make changes to increase the use and make the most of it, you can constantly adjust and relocate them. 
5. Clever Office Design
We all know the familiar clacking of high heels on tiled and stone floors. It's a sound that can be heard throughout the office. But with the right flooring, you can put an end to sound and loud noises. In the past, many interior decorators used to use carpets. But let's face it: when the coffee falls off the desk, the colleague is forever immortalised on the office floor. The care and cleaning of carpets are too time-consuming. Parquet and LVT floors offer an easy-care and versatile alternative.