A global manufacturer of sustainable packaging solutions wanted to reshape its workspace while moving to a spectacular new headquarters. The goal? To create a more ergonomic, cooperative, and informal workplace. Furthermore, the company wanted to reflect its brand's unique identity throughout the office interiors. Our acoustic pods and privacy screens contributed to the splendid project, led by architecture firm Trzop Architekci. 
| | |
| --- | --- |
| Client | |
| Industry | Packaging |
| Location | Kraków, Poland |
| Number of employees | 350 (HQ) |
| Square metres | 5 000 |
| Architecture Studio | Trzop Architekci |
CANPACK is an innovative producer of metal and glass packaging for the FoodBev industry. Its Krakow facility serves as company's head office, gathering around 350 employees from key departments such as finance, HR, sales, IT, purchasing, marketing, and communications. As one of the leaders in its field, CANPACK strives to set the highest standards in workplace culture. 
The brand new head office, located in a prestigious MK29 complex, provided the company with a chance to create a more friendly workspace. CANPACK wanted to foster cooperation and creativity while providing comfort and tranquility. The company also aimed the new office to be fully ready to enable the hybrid work model. To ensure that everyone feels at home from day one, the company invited all employees to cooperate in each project stage.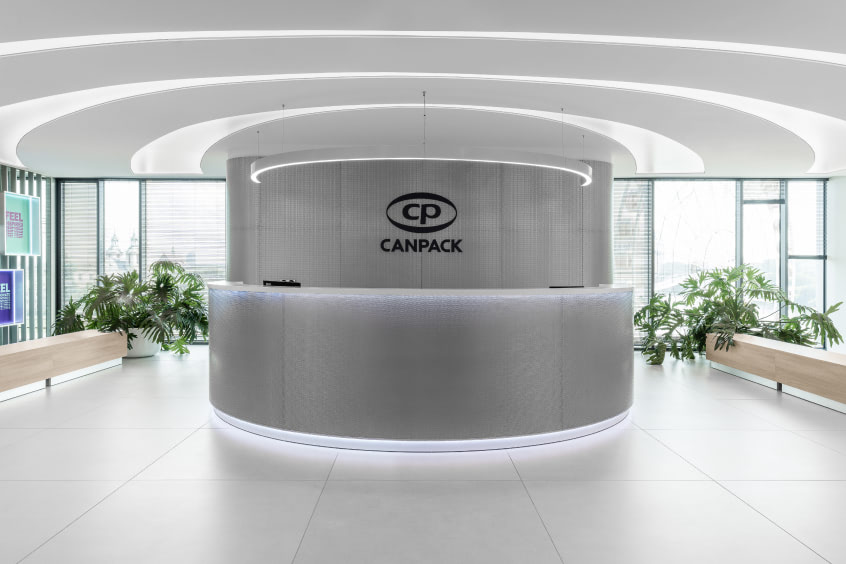 The office's design was entrusted to Trzop Architekci, one of Poland's most acclaimed architectural studios. One of the designer's concepts was to reflect CANPACK's identity throughout the office. That's why the materials CANPACK's packaging solutions are made from, such as steel, aluminum, and glass, were widely used in the design to express the company's identity. One of the landmarks is an exceptionally designed staircase inspired by the shape of an aluminum can.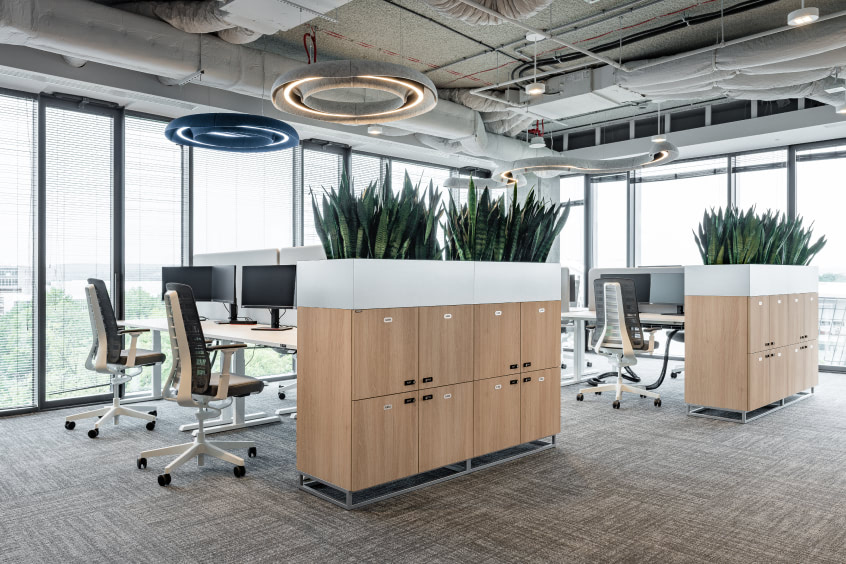 Designers from Trzop Architekci knew that using hard-surface materials all over the office would negatively impact acoustics. That's why they decided to apply numerous acoustic solutions to the space, specifically wall-mounted sound absorbers and privacy screens. Workstations were secluded by grey Duos, two-sided acoustic screens that effectively reduce background noise and provide excellent acoustic privacy for team members.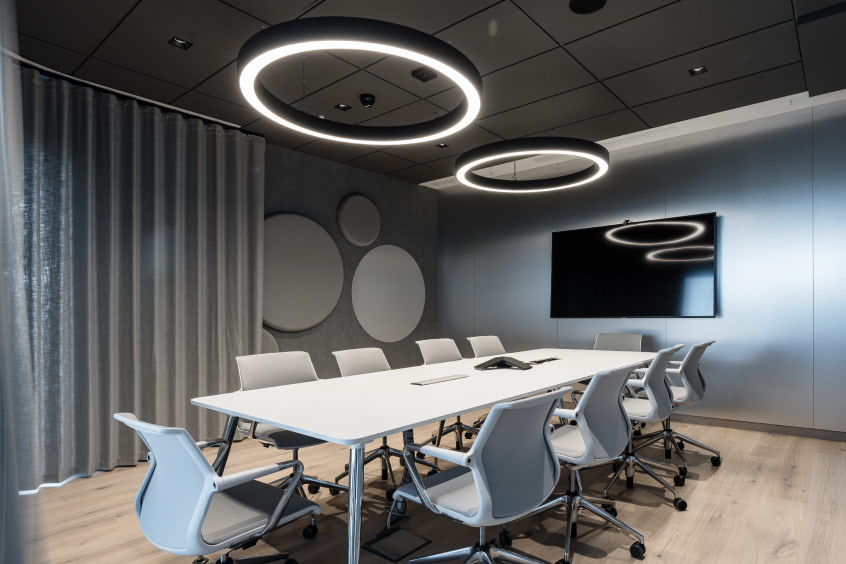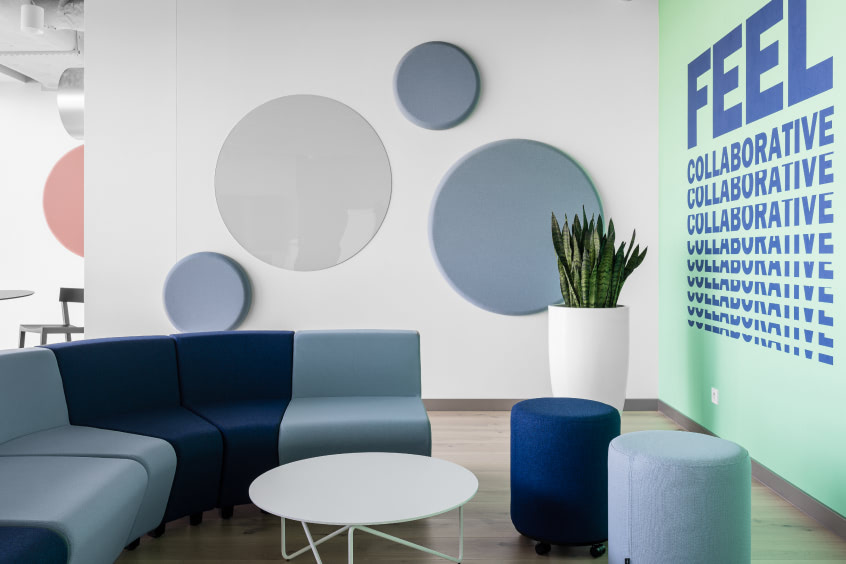 One of the designers' objectives was also to seamlessly combine a classic open-plan a with several activity-based zones, such as space for quiet work, both large and small meetings, and collaboration. Part of the solution was placing 16 multifunctional acoustic pods Space L throughout the whole office space. 
Those spacious and cozy soundproof booths are extremely versatile. Because of the size, each Space L makes a perfect spot for meetings with up to four people, a cozy corner to pick up a call, or a silent chamber for focused, individual work. Plus, Space L's metallic surface perfectly blends in with CANPACK's office style.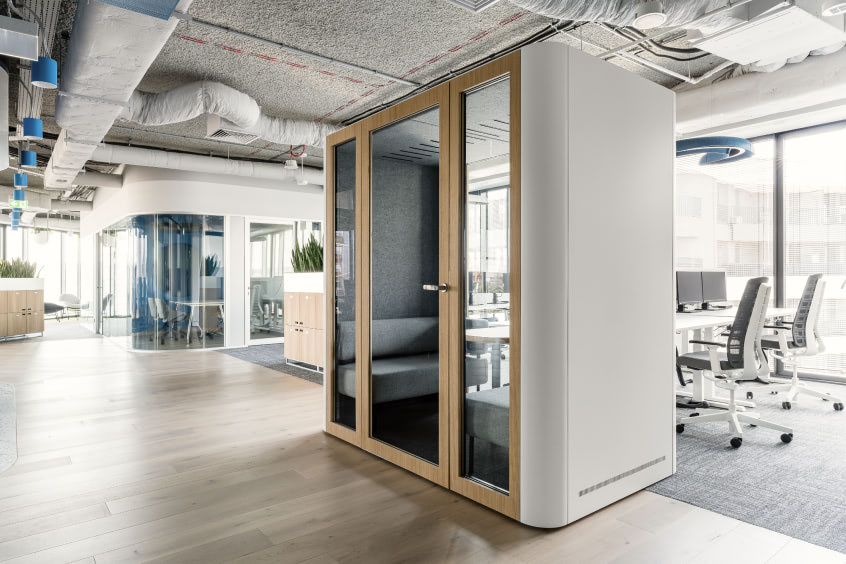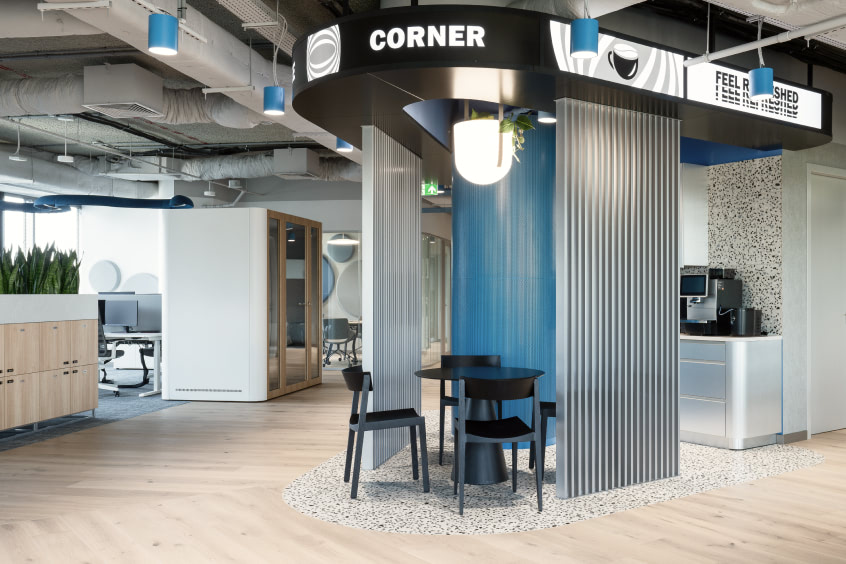 Acoustic pods were spread evenly throughout the office space and located close to workstations, so everyone has them nearby in case of a spontaneous video call or meeting. At the same time, pods act as perfect partitions, providing more privacy for team members.
Finally, one of the reasons why architects chose Mute's acoustic pods was high power efficiency and sustainability standards. Space L pods don't consume more electricity than a small laptop thanks to several energy-saving solutions like an occupancy sensor that automatically switches off lighting and ventilation when not in use. Moreover, these pods are all made of FSC-certified wood.
"We've already used Mute products in plenty of projects, so we've tested their quality many times. Mute's Space acoustic pods offer high sound attenuation and remarkable user experience and are widely appreciated by all clients. Therefore, we didn't hesitate to recommend them to our client in one of our most important realizations in recent years."

Bartosz Trzop, CEO of Trzop Architekci
 "One of the project team's key objectives was to create an office where employees could take advantage of a new 'activity based' work model, and to provide them options on their work setting. A crucial part for us was the involvement of our colleagues throughout all stages of the project. One of their suggestions was to install workstations enabling privacy and individual work. This is how we came up with the idea of placing acoustic pods across the office space. We are delighted to observe that everyone uses them so willingly "

Emil Sosnicki, Head Office Manager CANPACK