The gaming industry leader uses Mute's acoustic solutions to create a noise-free environment in their beautifully designed new headquarters in Wrocław.
| | |
| --- | --- |
| Client | |
| Industry | Gaming |
| Location | Wrocław, Poland |
| Number of employees | 300 |
| Square metres | 8250 |
| Distributor | Bakata Design |
| Design studio | Magdalena Kozak in cooperation with Daniel Błaszczyk |
Techland is one of the leaders of the fast-developing Polish gaming industry. They've recently moved to their new office located next to Wroclaw's industrial park. The office was designed to motivate current employees and to impress and entice potential ones – employees can now use a relaxation room, a gym, or even barber and masseur services. Lunchtime? Katarzyna Daniłowicz, the Top Chief TV show winner, is cooking for them in the company canteen. Employees can get there on a slide. Duh!
The surrounding acoustic products had to be top-notch, and there was no excuse for noise and reverberation – neither in the open space nor in conference rooms. The building was meant to reflect that Techland creates the most advanced games and that their employees work in the best environment.
"We all spent a lot of time during phone calls and video conferences – especially during the pandemic. Thanks to solutions provided by Mute, we can do it more efficiently and with more convenience. Our employees especially enjoy the Pods and use them all the time as a safe place for focused work.
Because they are soundproof, well equipped and comfortable – people spend there even an hour or two. Thanks to that, we got rid of the issue of conference rooms occupied by one or two workers who wanted to work in silence."
Aleksandra Marchewka, Chief HR Officer, Techland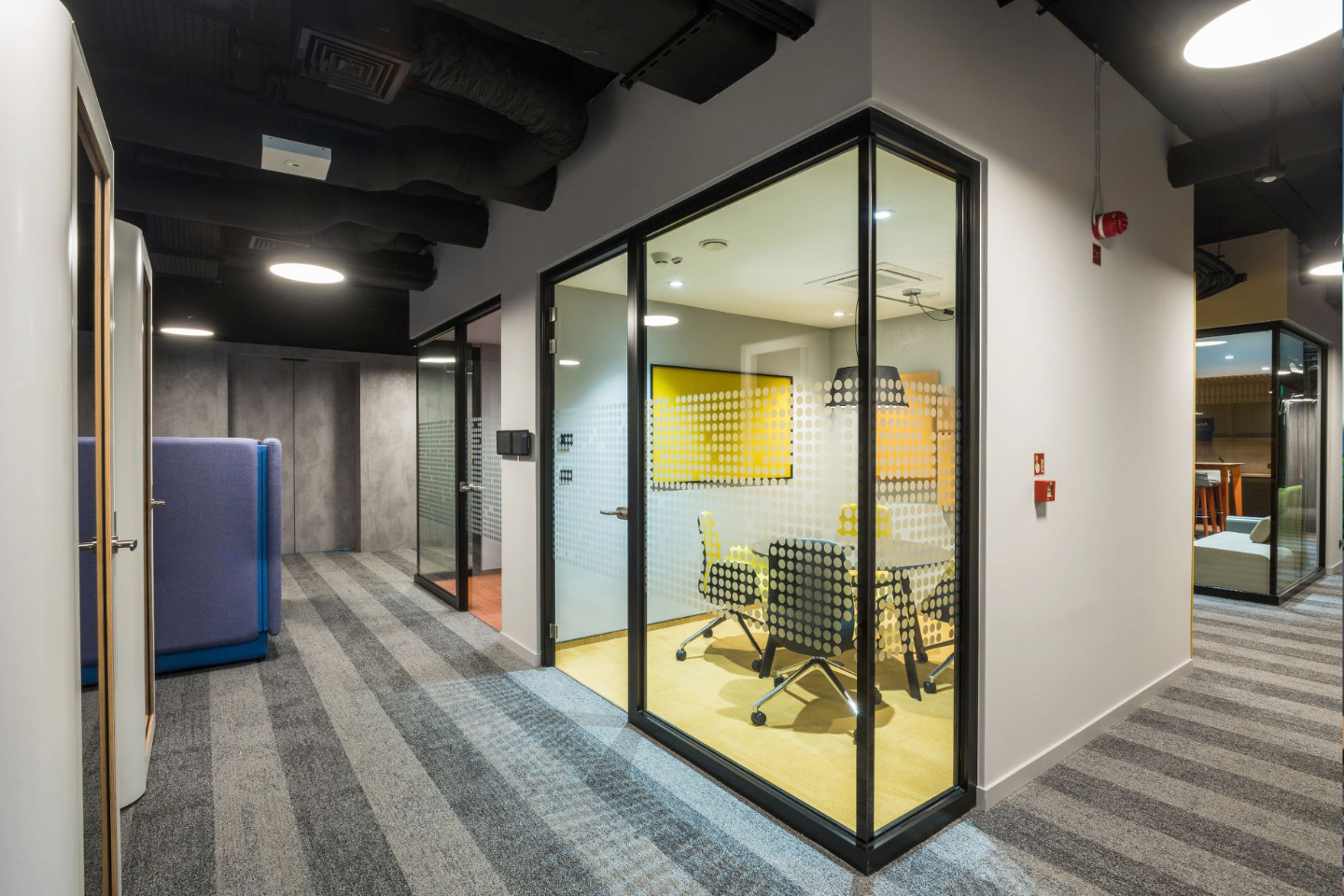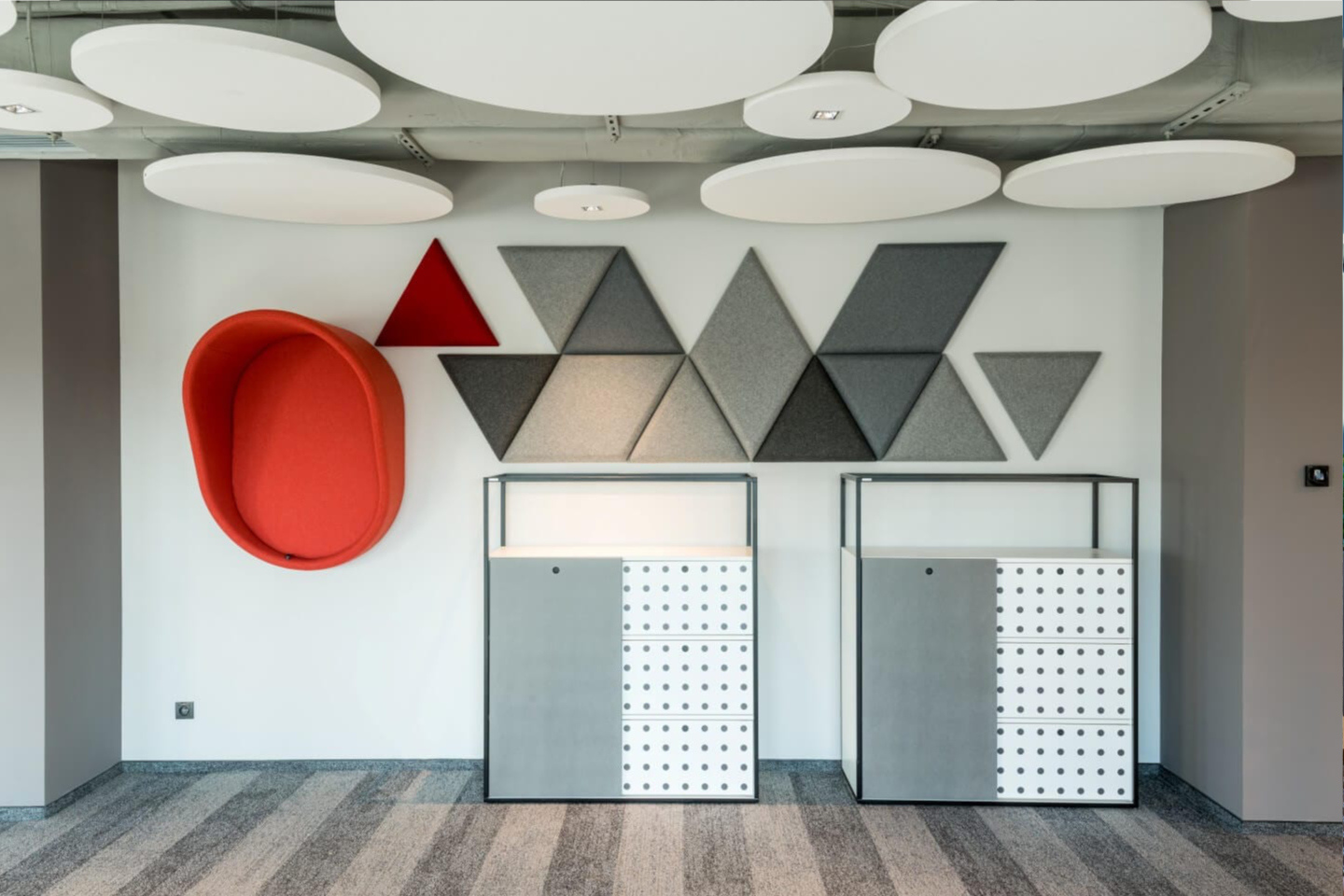 To ensure best possible acoustic environment we've recommended to use three different groups of products – each of them to solve a different acoustic issue. 
→ We filled conference rooms with almost 100 blocks (which are excellent sound absorbers in closed areas).
→ We placed two wall mounted telephone acoustic booths in a public area (but not in open spaces) to create quiet zones for quick phone calls. 
→ Finally, we put two Space S soundproof pods ideal for phone calls and video conferences. Space S pods were located close to workstations to ensure quick and easy access.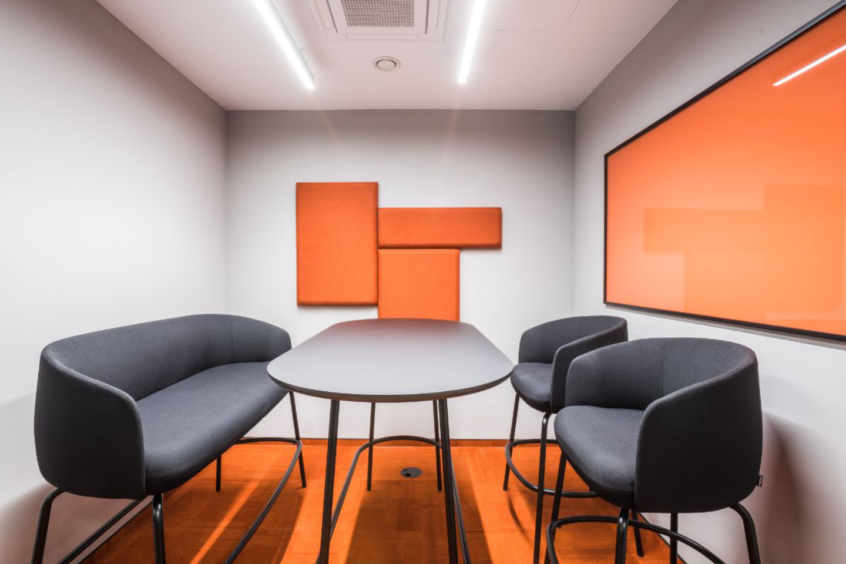 Thanks to the reduction of reverberation time, we improved the comfort of communication in the conference rooms.
It has been proved that a short reverberation time positively impacts the workday. It enables effective communication without interference and high speech intelligibility, especially during video conferences and phone calls.
At the same time, acoustic pods and Booths impacted the overall noise level at the office. They also allowed people more privacy during conversations and created noise-free, peaceful alternative places of task work.