One of the leading Polish glass manufacturers and distributors used our acoustic solutions to provide their workers with acoustic comfort in their newly-opened, all-glass headquarters. 
| | |
| --- | --- |
| Client | |
| Industry | Construction |
| Location | Sliwice, Poland |
| Number of employees | 200 |
| Square metres | 1220 |
| Distributor | BKconcept |
When a leading flat glass company in Poland designs their new headquarters, only one material can be used. Wutkowski's new office building was meant to be a glassy piece of art, a perfect flagship for the rapidly developing firm.
While glass is truly a marvel to behold, it may require quite a few adjustments to achieve perfect acoustics. The sleek and hard surface of glass often causes reverberation and makes spaces noisier and more prone to distractions. Precious material like glass needs a special approach to bring out its unique properties. That's why Wutkowski enlisted Mute's help to prepare the interiors of their impressive new office space.
The building was planned to be the perfect combination of beautiful design and user-friendly functionality. The floor-to-ceiling windows throughout the office provide much-needed daylight, making work at the computer less tiring. Yet, the client was aware that the same windows could hinder employees' acoustic comfort. This was where Mute stepped in.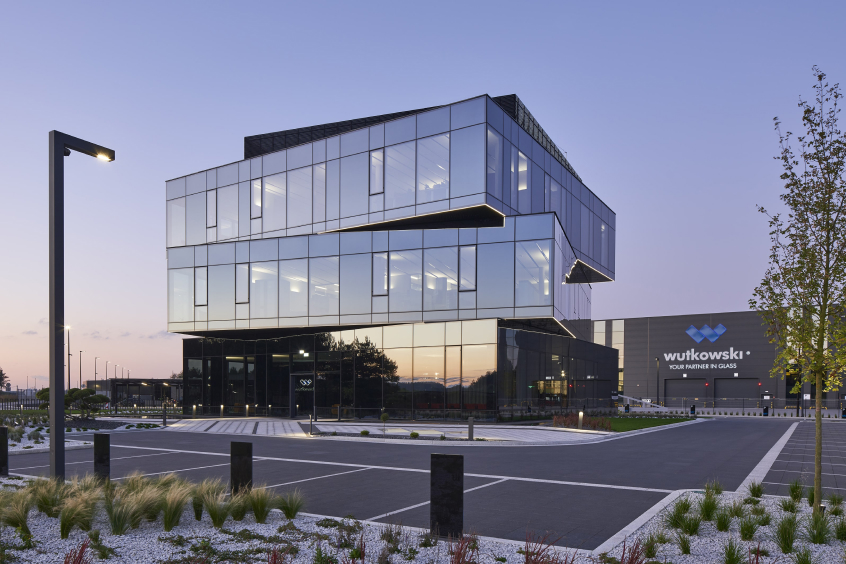 The Wutkowski team approached the project very consciously and decided to learn more about acoustics before choosing the solution. Along with our distributor, BKconcept, we conducted an informative workshop for senior executives, including the CEO.
During the meeting, our experts explained the basic rules of acoustics and things to avoid when setting up acoustics in an office. We also performed several short experiments and demonstrated how sound absorption works in practice in different environments.
Then, together with BKconcept, we recommended a comprehensive plan for the office acoustics. We focused on the places most exposed to distractions and noise: the open-plan space where the sales department is located and the conference rooms.
First, we covered almost the entirety of the non-glass walls of the conference room with our custom-made acoustic panels, Canvas. Canvas allowed us to lower the estimated reverberation level to approximately 0.5-0.6 seconds, which is a significant improvement over the recommended level of 0.8 seconds. Minimizing disruptive echoing was key to providing the best possible atmosphere, where speech intelligibility should be impeccable. It's especially crucial when many meetings are conducted via video and conference calls.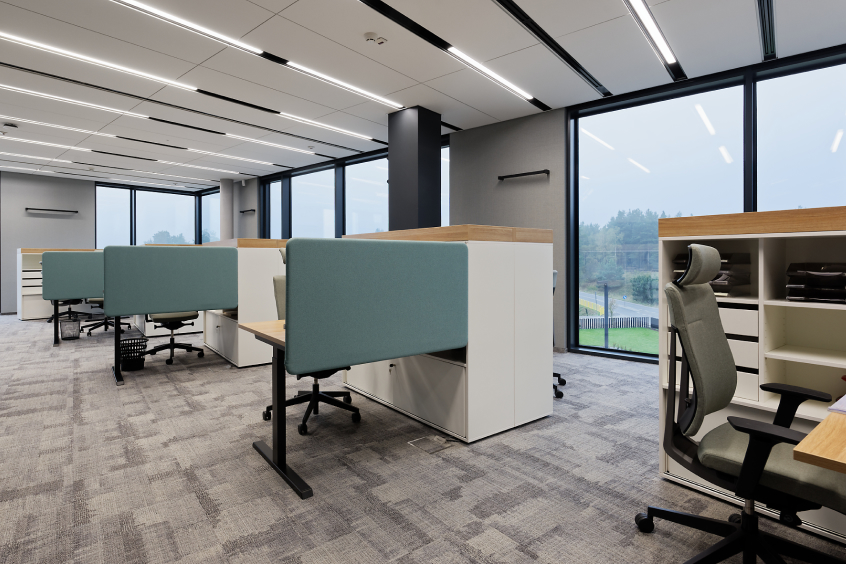 Then, we proposed to use Duos, our simple yet effective privacy screens. These versatile, lightweight, and soundproof screens separate each workstation located in the open space. Duo also provides privacy for everyone in the office and helps reduce background noise throughout the entire office space.
In addition, Wutkowski decided to use Space M, a multifunctional acoustic pod, to create a comfy spot for anyone who wants to place a call or have a short convo. Space M is a two-person acoustic booth, totally soundproof and equipped with everything one needs for a few hours of focused work. The pod features include super-effective ventilation, proper lighting, and even an adjustable tabletop. To provide quick and convenient access to the pod, it was placed close to workstations and with the door facing potential users.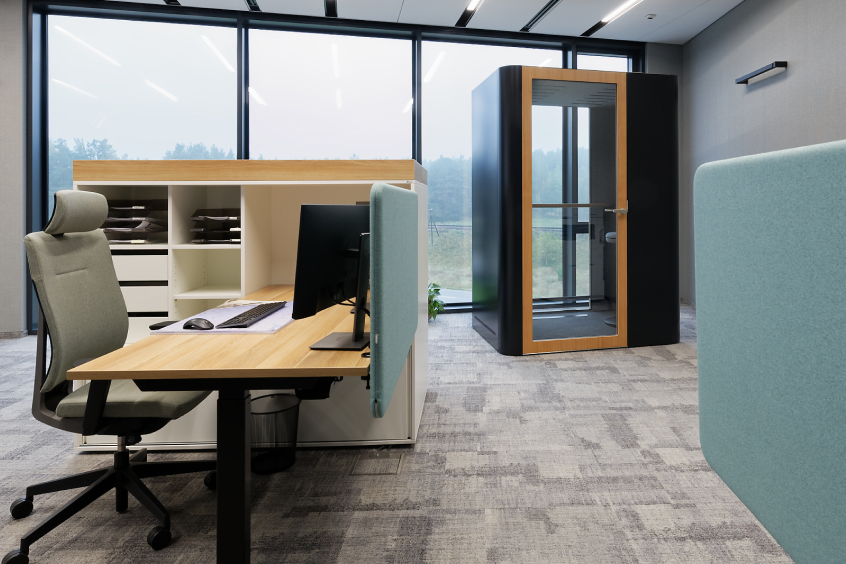 Lowered estimated reverberation to 0.5-0.6 seconds
Creating a serene atmosphere in full-of-glass open-plan interiors can be very challenging. Yet there is a way to have your cake and eat it too! This case is a crystal-clear example that applying quality acoustic solutions can work wonders, especially when proper acoustics consultations precede the whole project.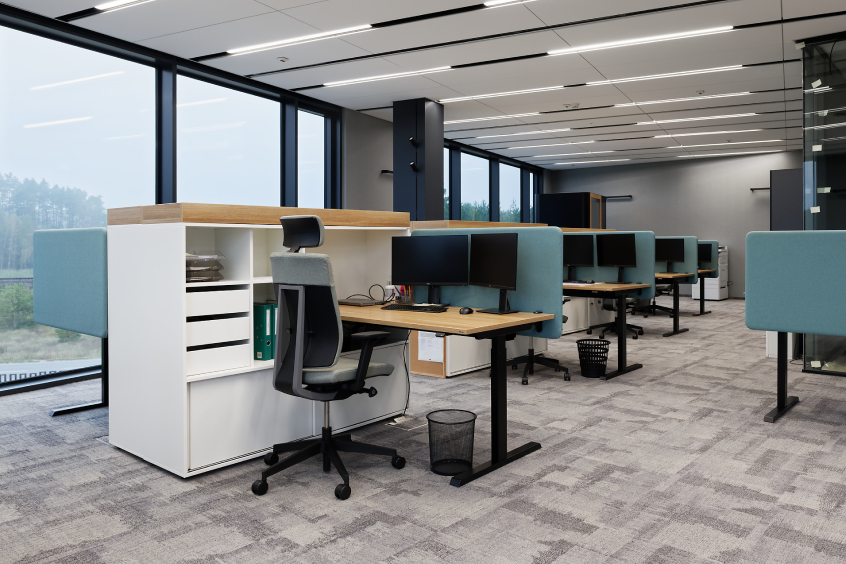 "As glass specialists, we know all the ins and outs of our product's nature and properties. From day one, we were aware that implementing acoustic solutions in our office is necessary to provide a proper atmosphere for our team members. Acoustic panels and other products provided by Mute and BKconcept helped bring out the best in our workplace.
Adding the acoustic pod to our workspace was a game-changer that allowed us to unblock the conference room, which before was commonly used as a place for making phone calls. Before the purchase, we tested several pods and decided to make no compromises on the quality and design. We are happy seeing Mute's pod and acoustic panels deliver both."

Dorota Wutkowska, Marketing Coordinator