You may have heard us call our new office pod, Jetson, "innovative-driven," "earth-friendly," and "people-focused." And you may be thinking, "Hey, that's a lot of marketing mumbo-jumbo." But rest assured, here are a few reasons why it's just the truth! Regarding Jetson and designing our acoustic pods, we not only talk the talk, we also walk the walk. 
Pioneering assembly system

 
Jetson is designed to be the first truly DIY office pod that could be built during a casual lunch break by two people. To make it happen, we needed to come up with completely new technology. 
The key element of Jetson's revolutionary assembly system is our patent-pending system of connecting walls that require no tools. This now makes what has traditionally been the most difficult part of constructing an office pod similar to playing with Legos. All resources required are 2 people and some spare time (30 to 60 minutes, depending on the pod size). No drilling, no bolts, no complicated tools, or special technical skills are needed. 
We believe that listening to music makes most things easier. So for those who will decide to do the assembly themselves, our team has created two dedicated Spotify playlists. They both include songs that will boost your motivation and set the right mood. And it's not a coincidence that they take 30 and 60 minutes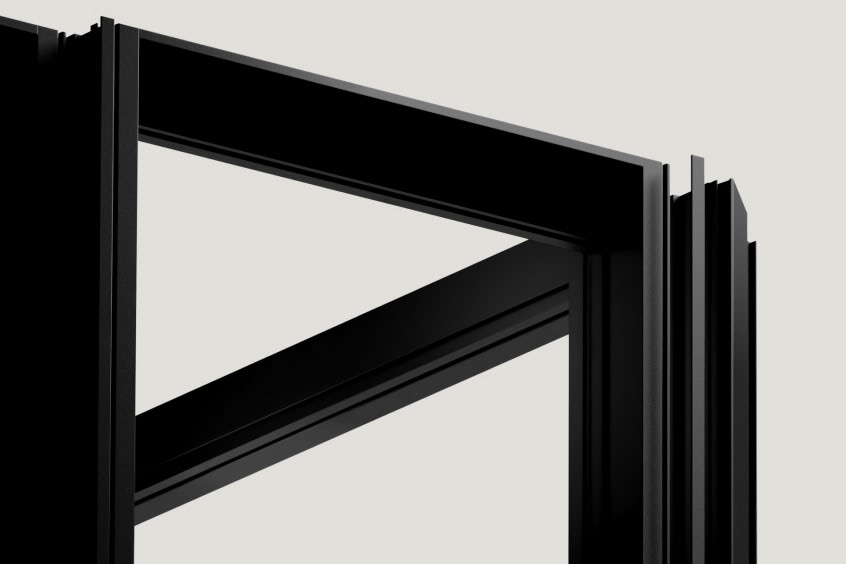 Holistically environment-friendly 
 "Sustainable" may be one of the most overused adjective about any product. But at Mute, we really mean it. When we developed Jetson, we didn't only want to include "energy-saving features" (though it has them) or several "sustainable solutions" (though it is equipped with many). We wanted Jetson to be genuinely and holistically environment-friendly from every point of view, starting from materials through maintenance, conservation to energy-saving.  
Unlike most acoustic pods, Jetson is built of aluminum, regarded as the world's most sustainable building material. Sometimes it's even called "green metal." Why? Firstly, it's easy-recyclable material—every batch of material is more or less 70 percent recycled and ready to be reused over and over again. Secondly, aluminum makes Jetson super-durable, meaning it will hold up for years or even decades. And, thanks to aluminum, Jetson is 30 percent lighter than similar office pods on the market, leading to lower CO2 emissions in both manufacturing and transport. 
"Sustainable" also means long-serving. And that concept doesn't end with durable materials. That's why Jetson is maintainable and suitable for quick and unproblematic repair. Every element of its construction—including its walls, doors, and ceiling—is easily replaceable. So, if needed, the service is quick and cheap. Basically, it comes down to ordering missing parts and replacing them. No more unrepairable malfunctions right after the warranty period!
Lastly, Jetson's power consumption is 25 percent lower than similar office pods. That's because every electrical device inside is meticulously chosen to keep power usage to a minimum. We spent dozens of hours going through hundreds of devices and picked only those matching the highest power efficiency standards.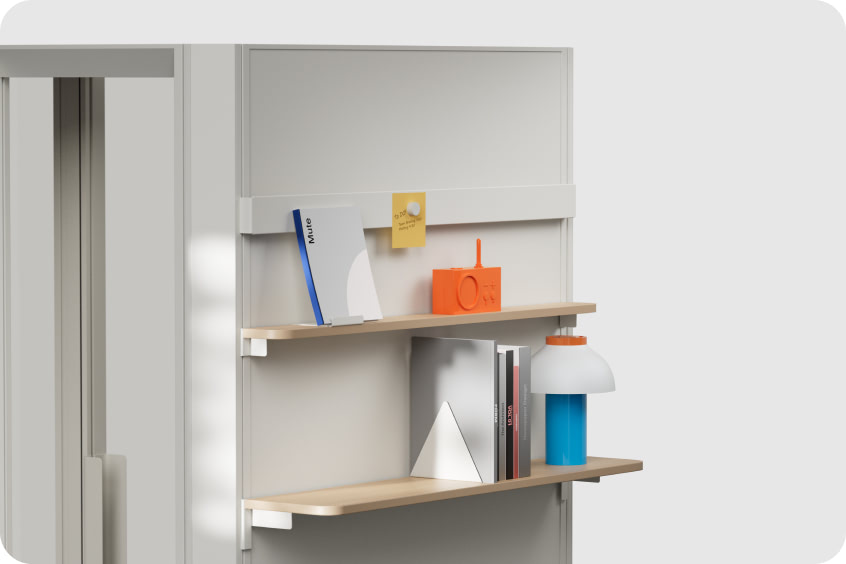 Flexible accessories system
Yes, Jetson is an acoustic pod, but it was also designed to provide additional functions too. Dedicated accessories installed on the walls, like shelves and whiteboards, make it more useful, universal, and adjustable to fit every office's needs and vision. 
There are two sets of add-ons that users can choose from. The "Library Set" includes deep and shallow shelves, bookends, and additional accessories to display books, photos, and catalogs. The "Note Set," includes a whiteboard to note down your boldest ideas during brainstorms. 
What's really game-changing about the accessory add-ons is that they can be placed virtually anywhere on Jetson's walls both inside or outside the pod, thanks to the smart and innovative system of hidden wall notches installed every 4.5 centimeters. The system allows reconfiguring the set effortlessly. All you need to do is grab a shelf, lift it gently to remove it from notches, and then hang it at another place or height. 
These are only a few of Jeton's fantastic and useful innovations. If you want to learn more about our Jetson's novelties, check out our website or listen to the audio guide we created especially for Jetson. Or better yet, experience Jetson for yourself at a trade fair or one of our showrooms across Europe. You can find us next at Orgatec in Cologne, Germany, from October 24 to 29. See you there!