Hybrid work has led to a rise in video calls worldwide. We don't have to be at one particular spot to connect with team members, business partners, and clients. Despite more flexibility, many employees still work in open-plan offices that are not acoustically optimized, and therefore, aren't sufficient anymore. When companies created open-plan offices, they had teamwork and collaboration in mind and didn't even take into account that one day their team members might not even be in the same building, as it is in our case now. More video calls require offices to be restructured to meet the needs.
The Change of Offices Due to Hybrid Work
The daily work routine has taken a whole new turn for most entrepreneurs in the last few months. We have become newly aware of the importance of personal communication. The necessary home office access was established, video conferencing on various platforms has become common, webinars and online training are replacing the workshops and live training sessions initially planned for this year. 
Rapid familiarization with new areas was a must, and fundamental rethinking, especially in dealing with the medium of video calls. More and more companies are just becoming aware that it is not enough to have video conferencing running. Instead, it is important how it runs and not to disturb colleagues back in the office. So, with the rise of hybrid work and employees having the choice if they want to work in the office or from home, we can also see an increase in: video conferences, video calls and phone calls. Therefore, the noise also increases. 
The office becomes the place for people to work on concepts and share ideas, either in person or virtually. Some people sit together at a conference table in the office. Others are present via a video call. The problem: The chatting noise will severely disturb everybody not involved in a current meeting or call. This is just adding to keyword typing, printers, coffee machines.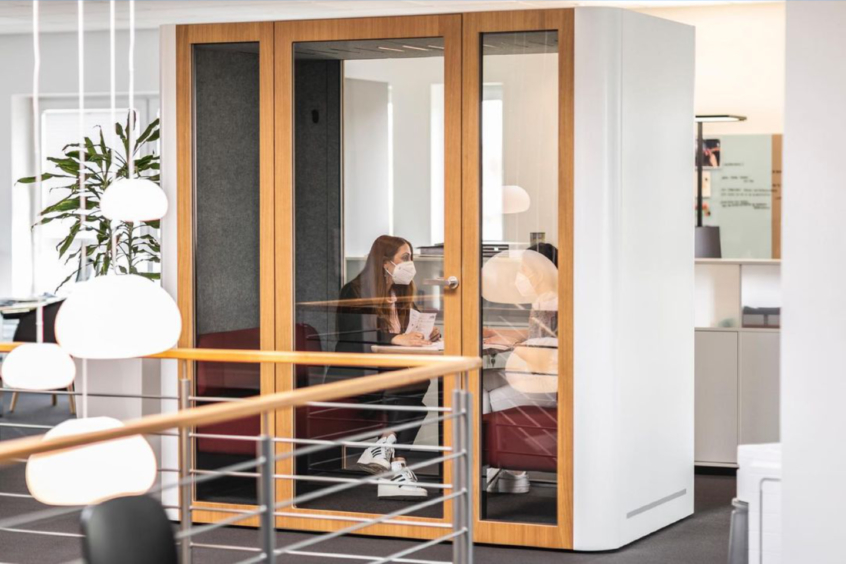 3 Tips to Video Calls Friendly Office
It's time for companies to find solutions and to create the ideal atmosphere for video calls. With these three easy-to-implement tips around acoustic solutions and interior, you will be able to provide the calm environment that is necessary to work efficiently. Being well-prepared is half the battle!
Soundproof Pods for More Privacy in Your office
Prepare dedicated acoustic pods for employees to have video calls. Coming in different sizes and variants, you can choose if you require a smaller pod for 1-on-1 video calls or bigger pods for up to six people for a whole video conference. Connecting to your Wi-Fi or LAN and having an integrated socket to charge your laptop makes it easy for everyone using the pod to connect to the company's systems and technology. With a well-thought-out ventilation system, everybody keeps a cool head, even when the meeting takes a bit longer again.
Install Acoustic Panels Inside Conference Rooms 
There are many options to put up acoustic panels. They will limit reverberation and improve the acoustic comfort of a room because the sound is not bouncing around. Proper acoustics makes your voice more clear and understandable to the person you're talking to. Sometimes companies spend a fortune to buy high-tech conference equipment, only to see that it won't provide excellent sound quality without proper acoustics in a room itself. 
Respect Other People's Needs for Privacy and Silence
Acoustic solutions can help optimize the environment for people in a video conference and those working at their tasks simultaneously. What they cannot do is automatically magically conjure up mutual consideration for each other's needs. Therefore, remind your employees of video call etiquette. This way, all team members should feel confident that they can work in decent privacy and silence.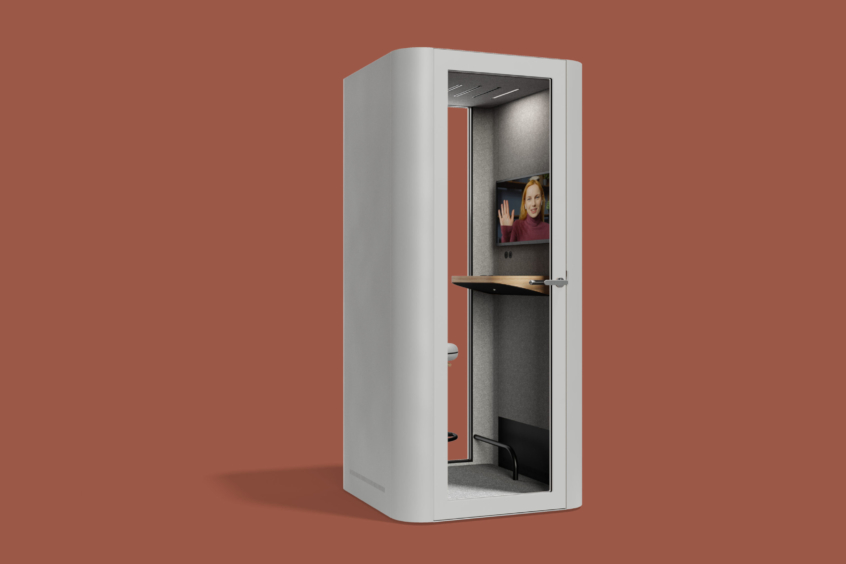 Optimize Offices With Acoustic Solutions

 
The number of video calls will only increase further. Employees came to learn the advantages of hybrid work and will make use of it. In offices that offer the right amount of acoustic solutions, employees can work closely, be more productive, and think outside the box, making communication with more departments necessary. Optimizing your office with acoustic solutions like soundproof pods and sound absorbers will make your employees happier and healthier.