Brain Embassy, an up-and-coming international coworking space brand, transformed a historic soc-modernist building in Warsaw into one of the most vibrant and inspiring co-working places in this part of Europe. To provide more flexible areas to work, talk, and create, they equipped shared spaces with Mute acoustic pods. Brain Embassy said that decision was a "no-brainer." 
| | |
| --- | --- |
| Client | |
| Industry | Coworking Space |
| Location | Warsaw, Poland |
| Project | Brain Embassy Czackiego |
| Square metres | 3 900 |
| Distributor | Kinnarps |
One of Brain Embassy's main goals was to provide users with various task-based zones for focused work, cooperation, phone calls, and video calls. Brain's team envisioned one acoustic pod in a central location on the second and sixth floors. Unfortunately, those areas easily get crowded and chatty, especially close to the kitchen. So, the products needed to offer impeccable acoustics, especially sound attenuation. Moreover, both acoustic pods had to be stylish and fully configurable, as Brain Embassy wanted to pick the right color for the outside walls and interior to ensure they all fit perfectly with the space's meticulous design. Finally, Brain's team also wanted to create a calm and serene atmosphere throughout the building's shared spaces on every floor.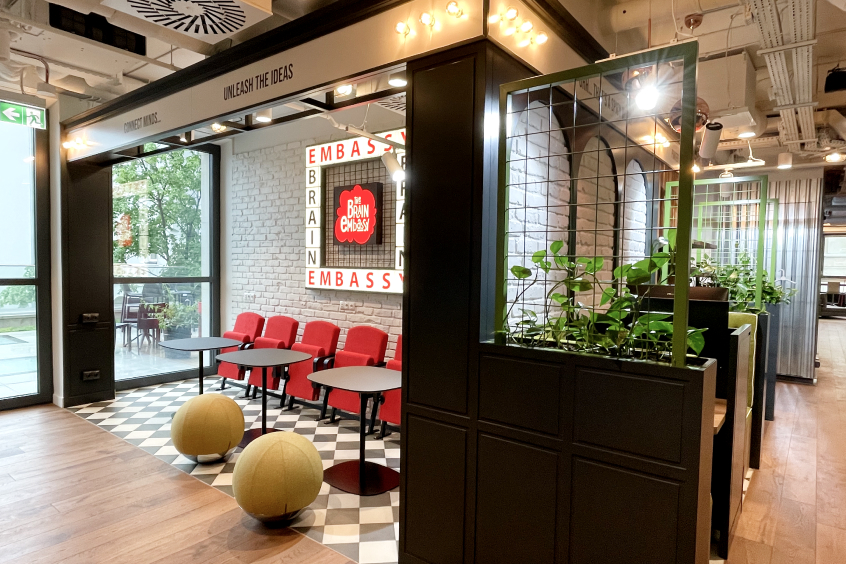 Do you want to see what the future of the workplace will look like? Check out your city's most popular coworking spaces. Co-working spaces tend to be ahead of the curve regarding workplace design and office layout. Their ability to create an inspiring and comfortable atmosphere makes work there enjoyable. Therefore, they are an excellent example for companies struggling to persuade workers to return to the office. (For more inspiration, check out our article about the 5 most inspiring co-work spaces from around the world). 
Brain Embassy is a great model to follow as one of the fastest-growing co-working brands in central Europe. Their new location in a historic building from 1953 was their most challenging project. The building was a theatre for 40 years, and Brain Embassy wanted to maintain the beautiful interior's original integrity while skillfully and seamlessly upgrading it with unconventional and refined modern design.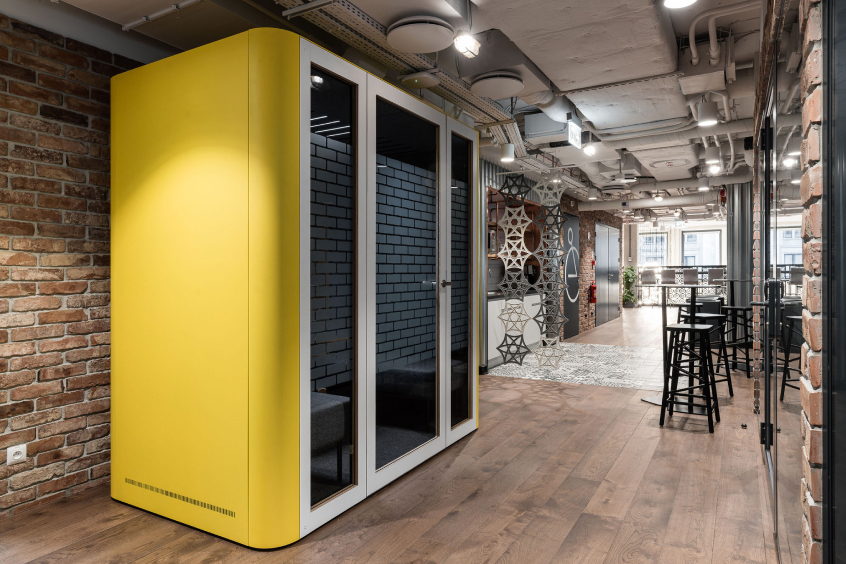 The Brain Embassy team decided to place the ergonomic, four-person Space L on the second floor. Space L offers a comfy place for group meetings or brainstorming. As in every co-working space, Brainers (as the users of Brain Embassy are called) from different branches socialize and help each other out, which sometimes leads to unexpected cooperation. An acoustic pod is the perfect place to connect spontaneously without disturbing other folks.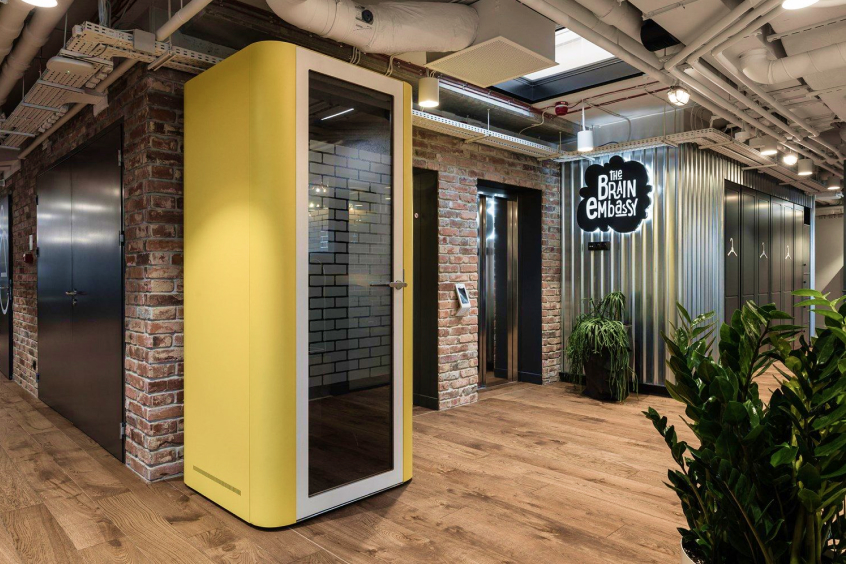 Our smaller acoustic office booth, Space S, was placed in the sixth floor's shared area, acting as a private place for individual phone calls or video sessions. To ensure even more privacy for confidential meetings, we covered the front windows of both pods with glass-blurring stickers.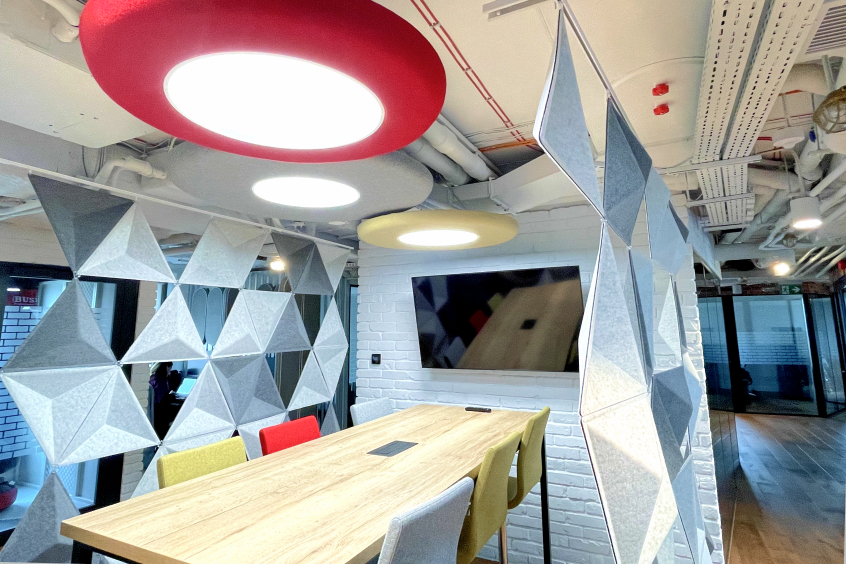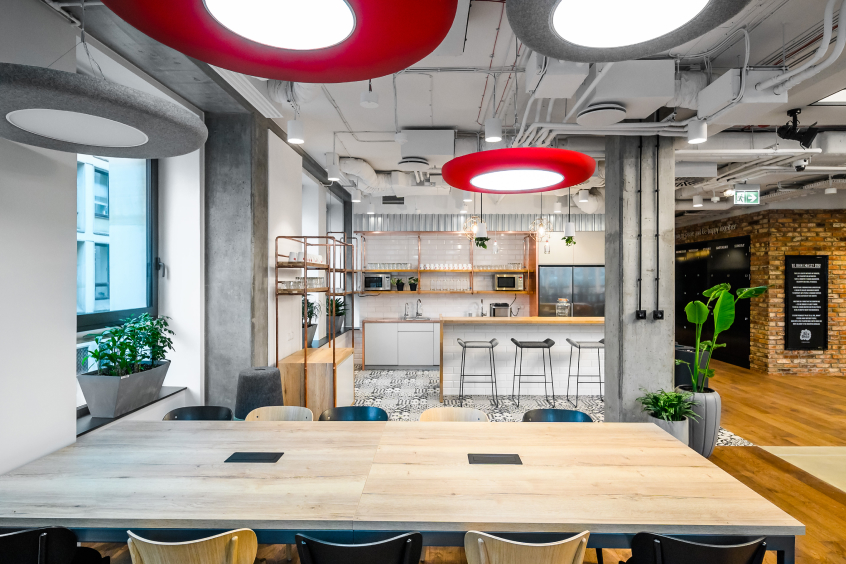 The second challenge was ensuring that shared spaces offer a serene, calm atmosphere despite plenty of places to talk and socialize (including semi-secluded meeting rooms). Several Loops – sound-absorbing acoustic lamps that we placed above desks – did the job and efficiently reduced noise levels. What's more, because Loop lamps hang from the ceiling, they're out of the way and more subtle than traditional free-standing sound absorbers. Thanks to a unique perforated structure, Loop lamps absorb sound from above and below, ensuring private conversations stay private.
Loop lamps were also used above kitchen tables. Office canteens are often the noisiest areas at the office because there are plenty of hard surfaces which amplify and reverberate sound. That's why the kitchens, especially, needed additional acoustic treatment. Thankfully, our Loops saved the day!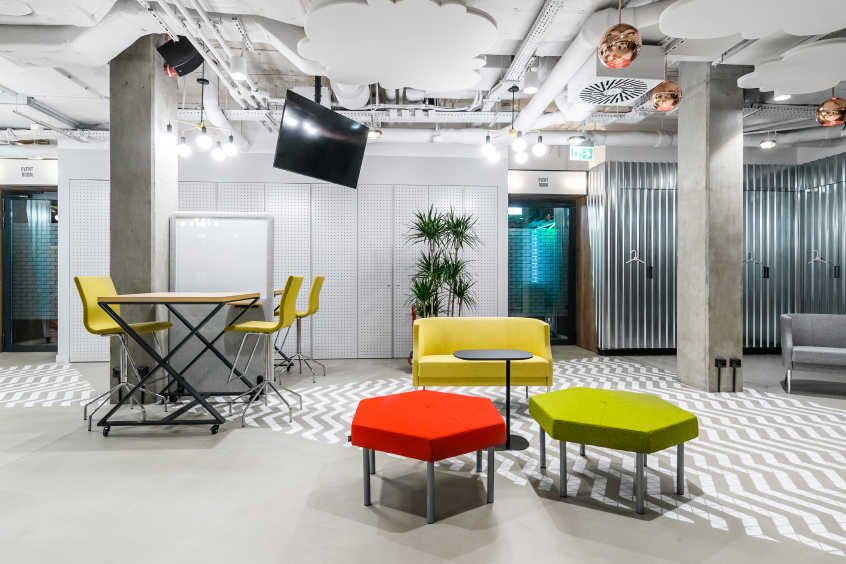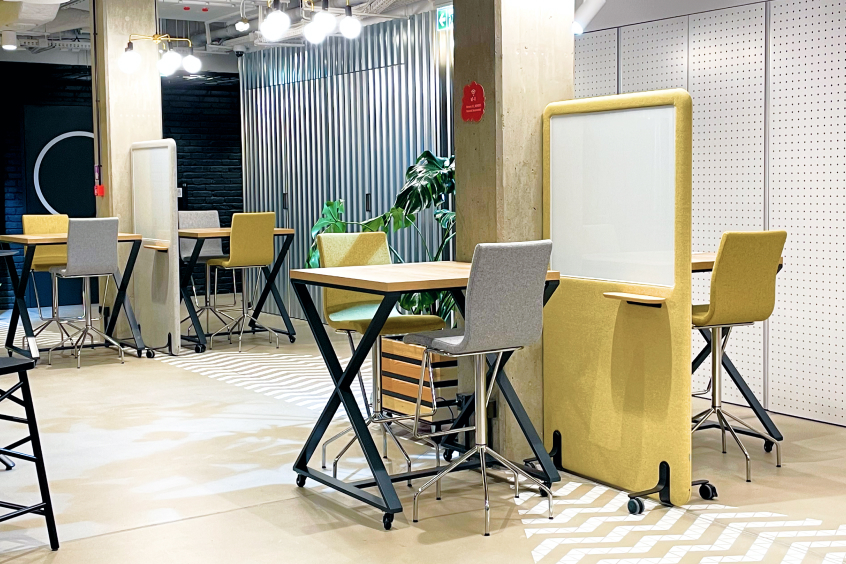 Finally, the Brain Embassy team decided to use several Walls – simple yet powerful privacy screens – in the event space at the ground-floor level, creating private noise-proof workstations for their clients in a common area. 
"We are delighted with our decision to choose Mute products. Selecting the right pods was especially crucial, as we didn't want them to be only eye-catchers or novelty attractions. 
We needed our pods to be super-comfortable, fully ergonomic places with impeccable acoustics, so our clients would use them every day. We also use Mute panels in our other location and truly appreciate how they improved our space's acoustics. That's one of the reasons why we decided to entrust Mute again with our new project Brain Embassy Czackiego. Seeing Brainers making even few-hours meetings inside our pods and listening to them praising the pods' quality, we know we made the right call."
Piotr Kwiatkowski, Deployment Manager, Brain Embassy.
Coworking spaces can be a great inspiration for creating atmospheres that entice employees back to the office more often. The Brain Embassy project proves that while thinking of re-creating that coworking magic in the office context, you shouldn't forget about high-quality acoustic solutions. 
Ready to get started?