When you're creating something new, it's good to ask yourself if you are adding something interesting to the surroundings without taking too much from the environment.
– Maja Ganszyniec
Meet the figure behind our Mist family, a virtuoso of product and furniture design – Maja Ganszyniec from Studio Ganszyniec. Maja is a designer with a comprehensive approach to the design process, graduated from Design Product at Royal College of Art and Interior Architecture on Cracow Academy of Fine Arts.
Over the last ten years she has been working across Europe on projects for leading brands such as: IKEA, Leroy Merlin, Amica, Mothercare, Orange, Dupont, Camper, Comforty, PayPass, Touchideas and Bellamy. Her works had been shown on recognised exhibitions in Milan, Amsterdam, Berlin, London, and published by Domus, Icon, Abitare and Wallpaper Magazines.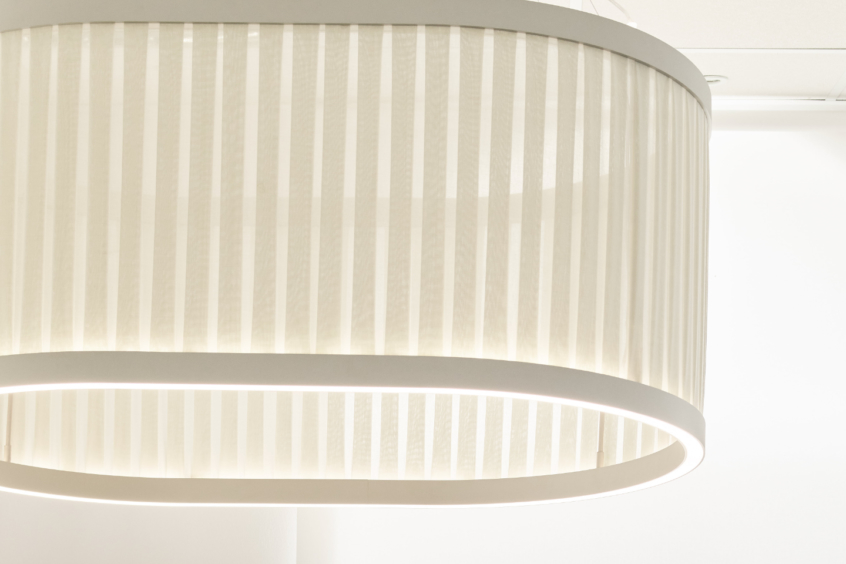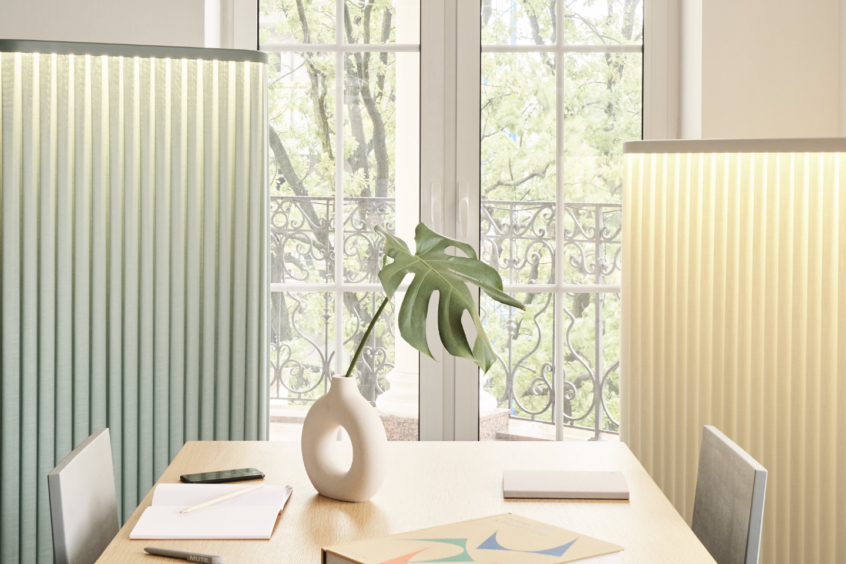 Mute: The past years have been busy for you. You've been working on few collections for IKEA, developing your own brand and delivering projects for your long-term clients. What was the most interesting and inspiring aspect of creating Mist lamps? How do they complete your work?  
Maja Ganszyniec: It's my first project that combines two very interesting sides – acoustics and light. Until now my projects mainly focused on more classical interior design elements. However, the concept of acoustic comfort was always very close and personal to me, because noise reduction becomes a more and more challenging issue, mostly in open space offices.
M: Do you have a theory why?
MG: Partly because open space concept became so popular and has been implemented almost in every bigger office. The general idea of open plan office, developed in 50s in Germany, was meant to foster communication within the company. But lately it went the other way around. Several studies discovered that open office plan decreases number of face-to-face interactions between employees. Plenty of workers sit in a headphones or in conference rooms.  It's simply because open offices are full of noise and people observe on a daily basis that it has a negative impact on their work. On top of that people's work is becoming more complicated, requiring more time for a focused work. Recently I've observed many new solutions for noise reduction in business spaces and I'm happy to add something innovative to this emerging trend. 
M: So why did you find designing the acoustic lighting an interesting project if there are so many solutions already on the market? 
MG: In my opinion, they are effective, yet very similar to each other. From an aesthetic point of view, they often lack of something unique that could make them an acoustic tool and also a piece of decoration. To me, it was a chance to create one of the first decorative acoustic products that could look great in modern-designed offices, in fancy restaurants, or a glamorous hotel.
M: So, the goal was to create something unique but also practical and useful? 
MG: I believe that in modern interior design, every inch and square meter has to be used effectively. I've observed that in some offices plenty of space is taken by acoustic products with only one function. In my opinion, the era of one-function products is coming to an end as we have less and less space, and we've got to make the most of it. That is why the Mist Lamp is multifunctional: sound absorber, space divider, and lamp. 
M: Only three functions, nothing more? 🙂
MG: On top of it, there is an inductive charger or USB A+C port on the surface of every Mist lamp, so we can call it a device charger as well.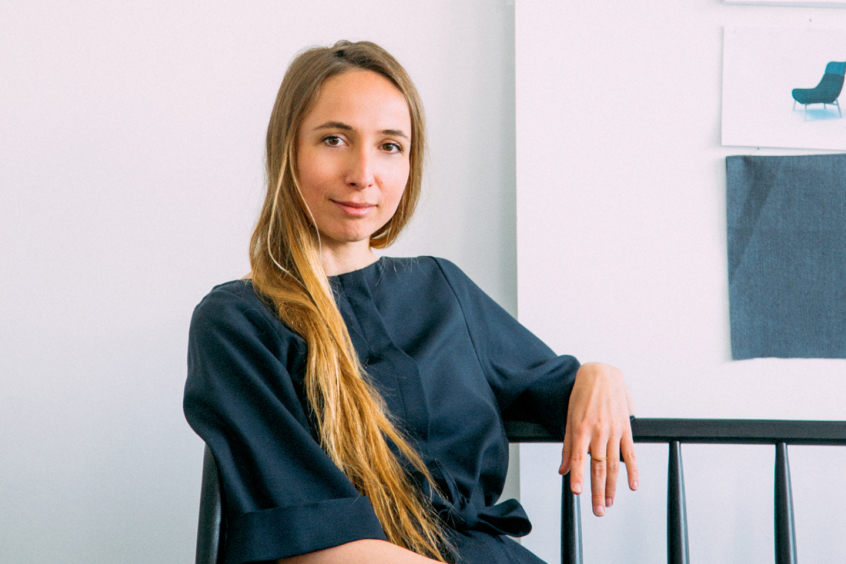 M: What's behind all these functions? What was your big idea?
MG: I wanted to create something that could be a practical space divider but with some subtlety to it. That's why the context of light is so important. Most of these kinds of products are just walls. I've observed that every traditional space divider makes a place a little bit darker and more gloomy. I chose a delicately transparent fabric because I wanted to allow the light to shine through and penetrate the room. During the day, semi-transparent curtains ensure the lamp's translucency, letting in the sun.  After dark, a pleated curtain ensures a comforting, understated light that works beautifully in every surrounding, creating a comfortable atmosphere. On top of that, thanks to the fabric we've used, MIST creates a magical visual effect –  when you turn on the light, it seems like the top cover of the lamp is floating gently in the air.
M: What was the main technical challenge with creating the product?
MG: The hardest part was to find a proper solution to make it look soft and transparent and, at the same time to obtain a high level of blocking and sound-absorbing quality. With cooperation with Mute's product technologists, we've done that using invisible wall made of plexiglass that also creates acoustic cavities on both sides of the product. Part of the soundwaves are "caught inside," and because of that, the lamp limits reverberation.
MG: Finally, what are the key features of well-designed products, in your opinion?
M: Lovability 🙂 Shape, function, ease of use. And, of course, sustainability. When you think about it, the world doesn't necessarily need more chairs or lamps. So, when you are creating something new, it's good to ask yourself if you are adding something interesting to the surroundings without taking too much from the environment. I am glad that Mute looks at that issue the same way.