We carry on with our Europe's trade fair tour. After Copenhagen and Paris, now it's time for Rotterdam. We are participating in Design District Trade Show for the first time, and as a debutant, we are eager to make an impression with our products. 
For three days, over 10,000 m² will be filled with stands and presentations of more than 200 finest interior brands. Located in historical venues, filled with exhibitions and presentations of young designers, and packed with exciting lectures to follow, Design District in Rotterdam is a lot more than just a fair trade. After we heard so much about the inspiring atmosphere of previous editions, we couldn't miss this opportunity to take part in it. 
What we've prepared? First of all, at Van Nelle Factory, you will have a chance to experience two different families of acoustic pods. Space is our already well-known product: the best-in-class soundproof booth fully configurable, in various sizes and colors.
Jetson is a newcomer to our pods' offer. Based on the feedback we have gained so far, we are sure it will reshape the whole product category. It is an innovation-driven, durable, effective, and accessible acoustic pod. Moreover, it's designed to be assembled so quickly and easily that it will truly surprise you. We can't wait to present all its innovative functionalities and see your reaction. 
But there is more on our stand in Rotterdam. As always, you have an opportunity to explore our acoustic lighting solutions, including Line and Mist, both recognized with the "must have" prize. Finally, we present the cornerstones of workplace acoustics – sound absorbers and privacy screens.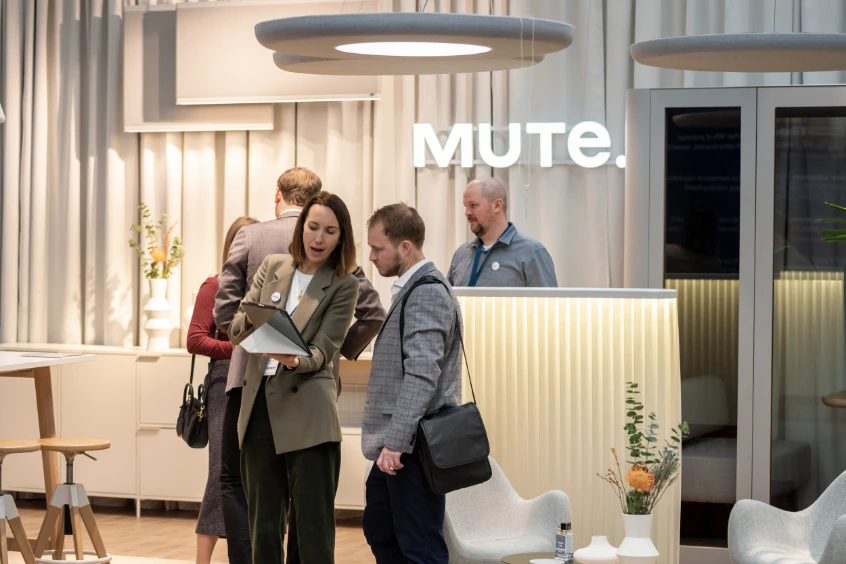 When & Where?
From 8 to 10 June you can find us in Van Nelle Factory at the stand no. S23.
If you would like to pre-schedule a meeting with us, please send an e-mail to marketing(at)mute.design
We look forward to seeing you in Rotterdam!